Check out this fun explosion of volcano themed rhyming! Erupting Rhymes is the perfect preschool literacy activity for a dinosaur unit. This activity will have your kids erupting with excitement while focusing on identifying rhyming words! Rhyming words are one of those important preschool development skills and with this activity, your kids will be erupting with laughter as they match up these rhyming matches. Don't want to pull together your own fun thematic unit? Don't worry! With My Pre-K Box, each month we deliver everything you need right to your front door! In fact, this Erupting Rhymes activity is included in The Dino Box! Don't miss out on the best preschool fun, delivered. Subscribe today.
My Pre-K Box: The Best Educational Subscription Box for Preschoolers
My Pre-K Box is an educational subscription box for preschoolers aged 3-5! We deliver the most fun play-based preschool learning available! Each box has its own unique theme and is filled with different learning activities to target math and literacy skills. Your kids will have fun exploring the new activities, and you will delight in the fact you are helping them with essential kindergarten readiness skills! These kits are delivered straight to your door and are sure to develop a love of learning in your tot!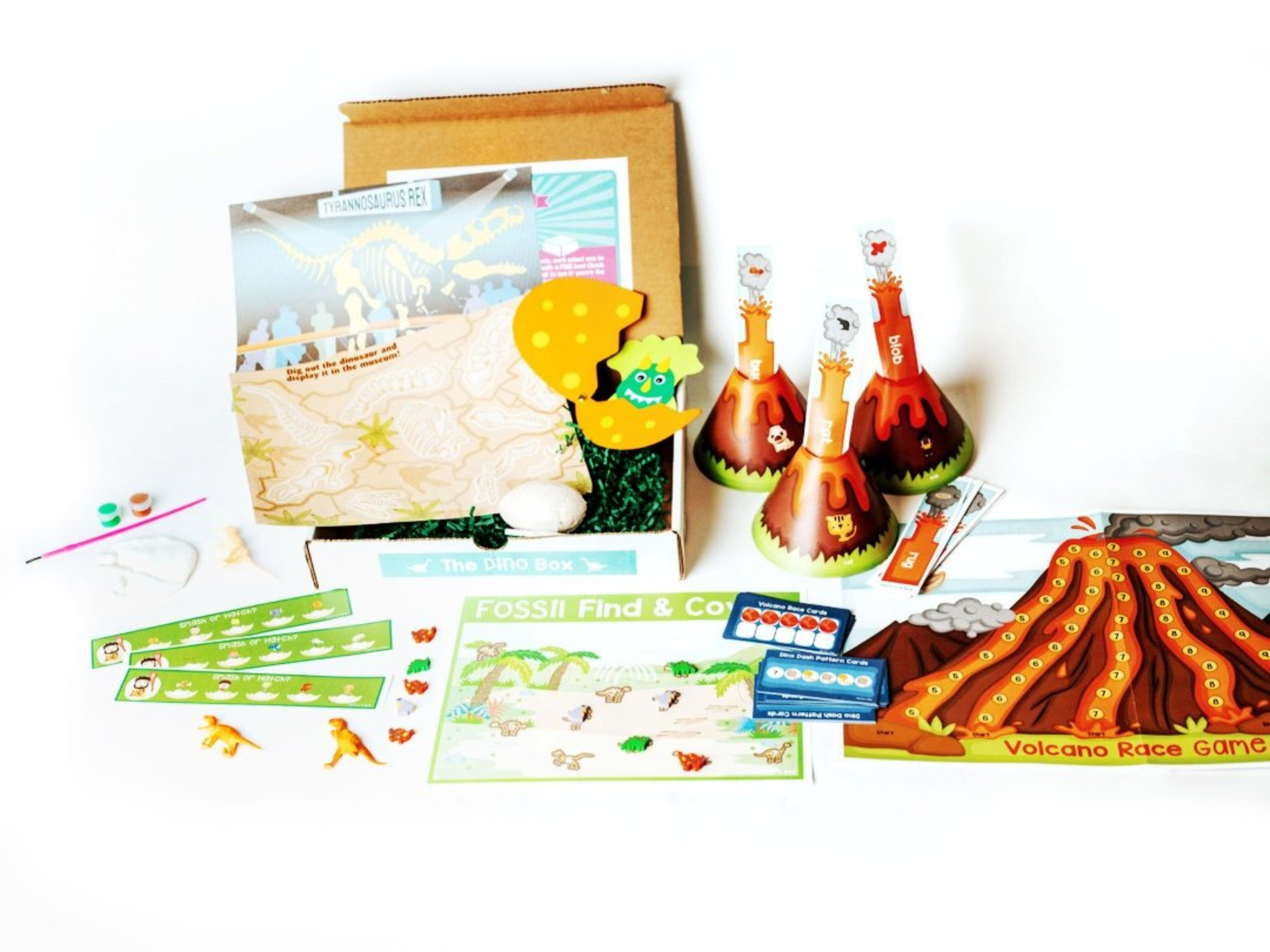 Have You Downloaded These Fun STEM Activities?
Check out our FREE Preschool Science Fun Pack! These activities are great for teaching your preschooler important concepts like:

Labeling parts of a plant

Weight of different objects

Taste

Animal habitats

Seasons

Weather

Sorting trash, recycling, and compost

...and more!
The Importance of Rhyming
Rhyming is one of the most important skills pre-readers learn so they can start to understand and access the language. It helps to emphasize the sounds different letters and blends make together and it helps to segment out words into the different sounds early readers hear.
Materials
Erupting Rhymes volcanoes

Erupting Rhymes cards
Directions
Step 1 Your first step will be to put together the volcanoes. Make sure the printed side is facing out and curve each piece around until it has created a cone, leaving enough space at the top to put the rhyming cards in.
Step 2 Lay out all of the rhyming cards on a table so you can see the pictures and words of each card.
Step 3 One-by-one, have your child identify the picture on each card and then find the matching rhyme volcano.
Step 4 Once your preschooler has identified the correct rhyme, have him/her place the card inside the volcano with the correct rhyme! Don't you just love how the lava and smoke on the card look like they are shooting right out of the top of the volcano!?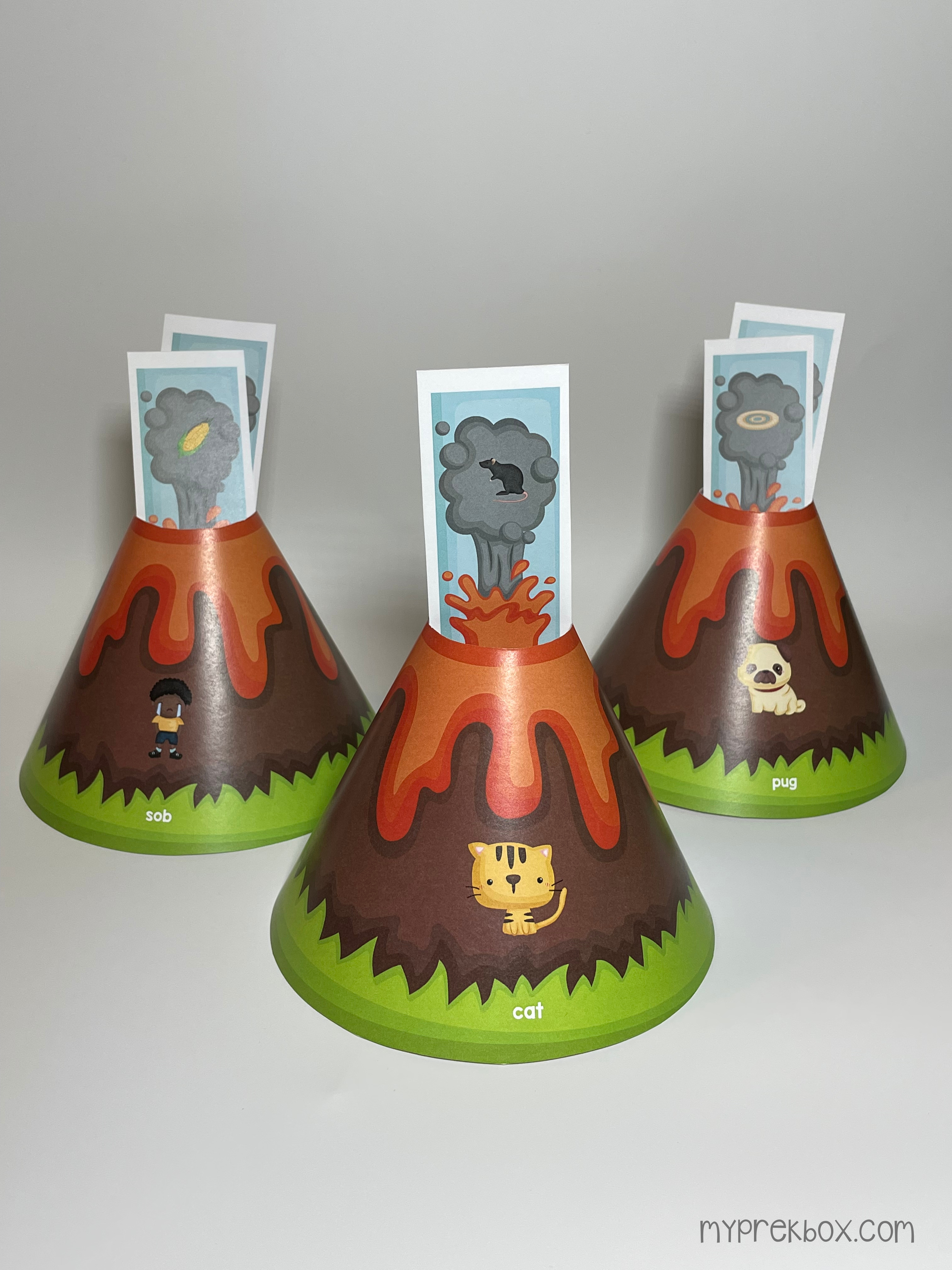 This Erupting Rhymes is an activity included in My Pre-K Box's The Dino Box. The Dino Box comes packed with all kinds of preschool learning activities including:
Volcano Race Game (numbers 5-9)

Smash or Hatch? (beginning sounds)

Fossil Find & Cover (number sense)

Dino Dash Game (patterns)

Erupting Rhymes (rhyming)

Fossil Making STEM Craft Kit (arts and crafts)

Build-a-Dinosaur Sticker Scene (included with Craft Lovers Upgrade)

Hatching Triceratops Craft Kit (included with Craft Lovers Upgrade)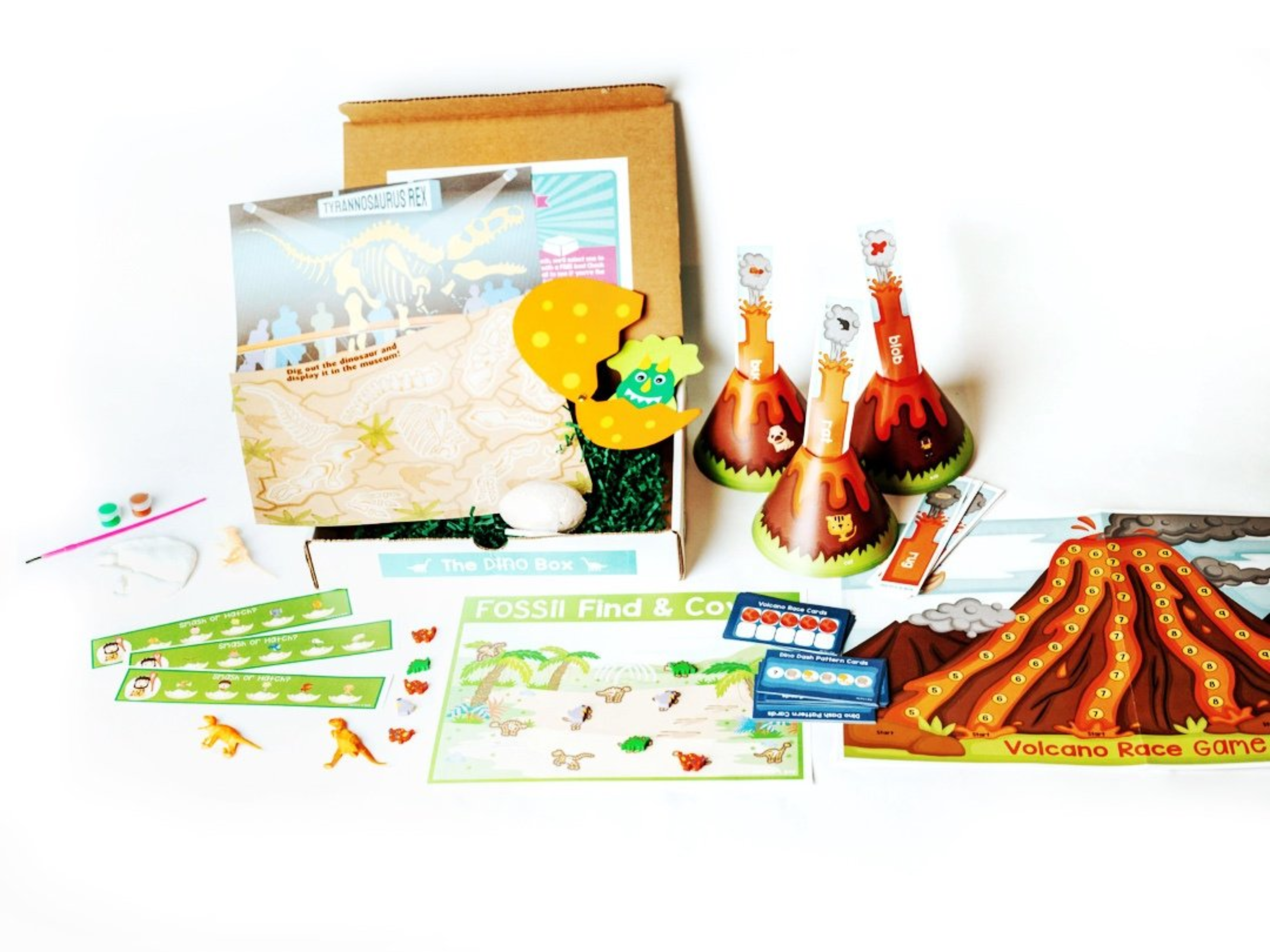 Let's Connect!
We absolutely LOVE seeing your preschoolers learning through play! Please take photos and videos of your child's work and share your photos with us on Facebook and Instagram!
Also, if you aren't already, be sure to follow us on Facebook and Instagram for more fun activities to do at home with your little ones!
Haven't yet tried My Pre-K Box?
My Pre-K Box is the best monthly subscription box for kids ages 3-5.

Everything you need to create, play, laugh, and learn!