Are you wondering what skills your preschooler should be practicing? Preparing your child for Kindergarten and supporting them in learning basic math and literacy skills can be a huge undertaking for parents. There are so many programs and apps out there. Finding something that's easy to use and doesn't involve a screen narrows down your options tremendously. Let's take a look inside The Dino Box to learn more about some of the Kindergarten readiness skills you can practice with your preschooler!
My Pre-K Box: The Best Educational Subscription Box for Preschoolers
My Pre-K Box is a hands-on, monthly subscription box for 3-5-year-olds that features fun games and activities that will help prepare your child for Kindergarten. Skills like completing patterns, identifying numbers and letters, letter sounds, rhyming, and many more are incorporated into the box seamlessly. Plus, there are hands-on crafts and sensory activities included also! Your child will love playing and actually forget they are learning!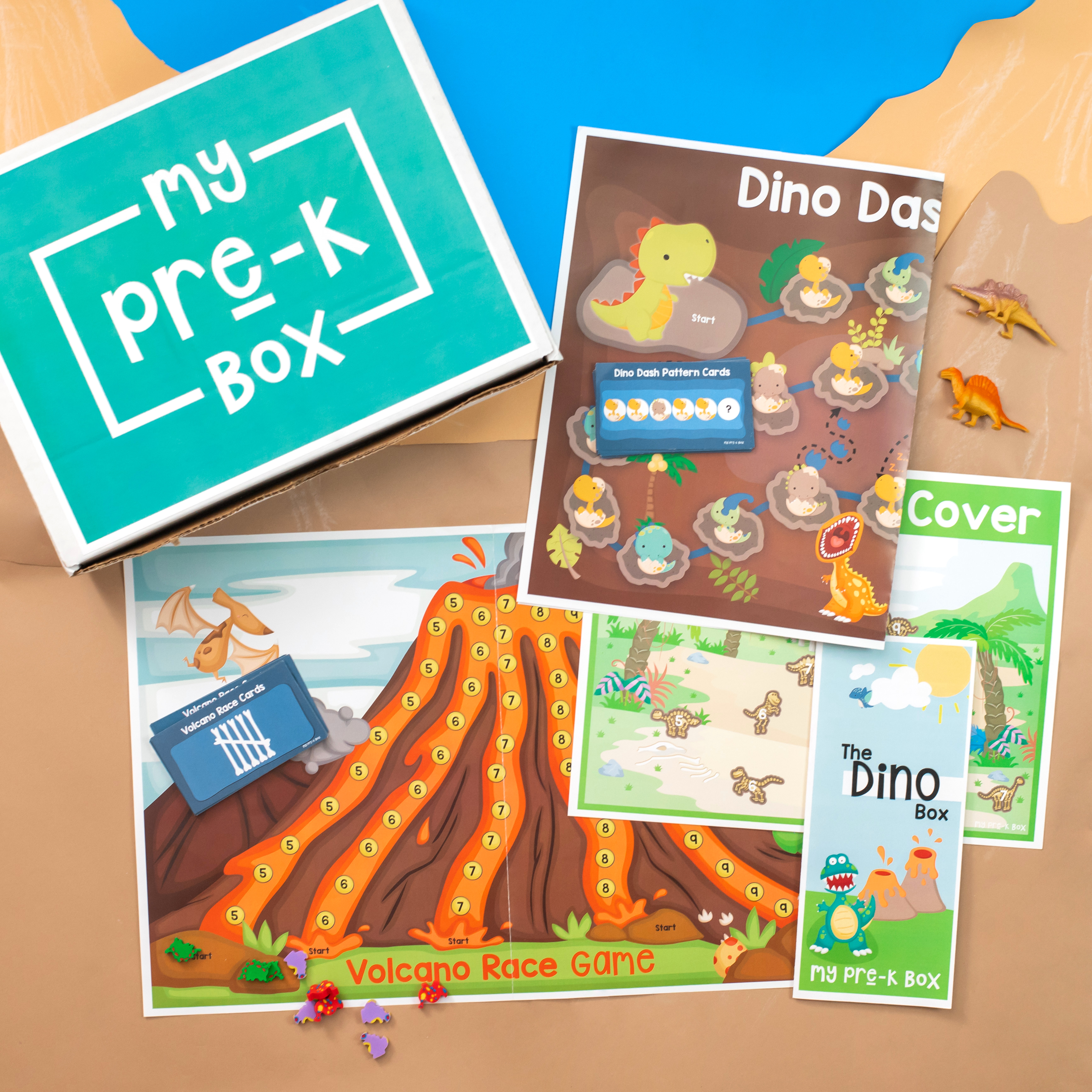 The Dino Box
The Dino Box does not disappoint and is jam-packed with prehistoric-themed games and activities that focus on important Kindergarten readiness skills.
Kids learn best when they're having fun and the games in the Dino Box are fun for kids and grown-ups alike!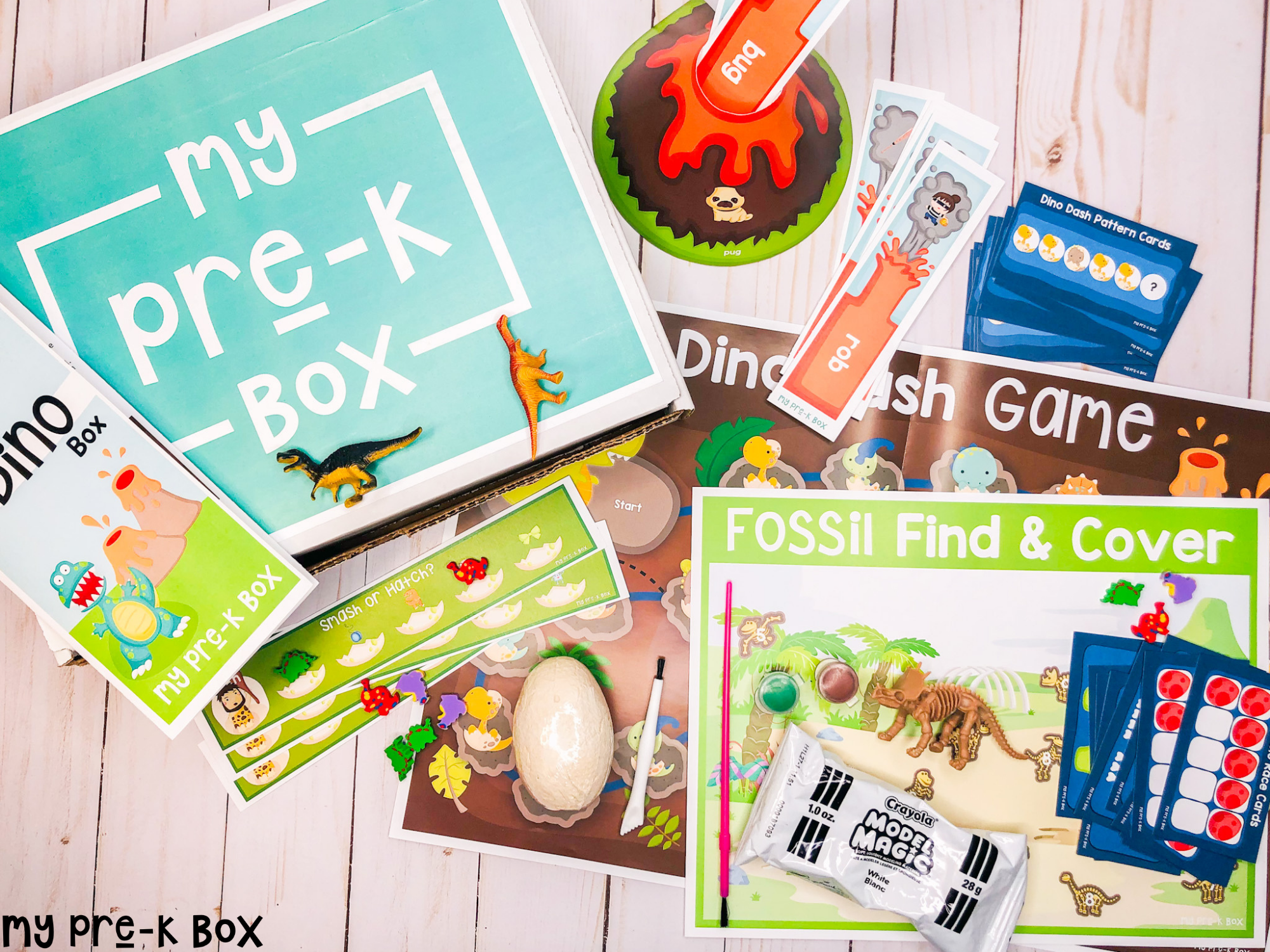 Volcano Race Game
Identifying numbers in different visual forms in this cooperative game is a skill that is so important for preschoolers.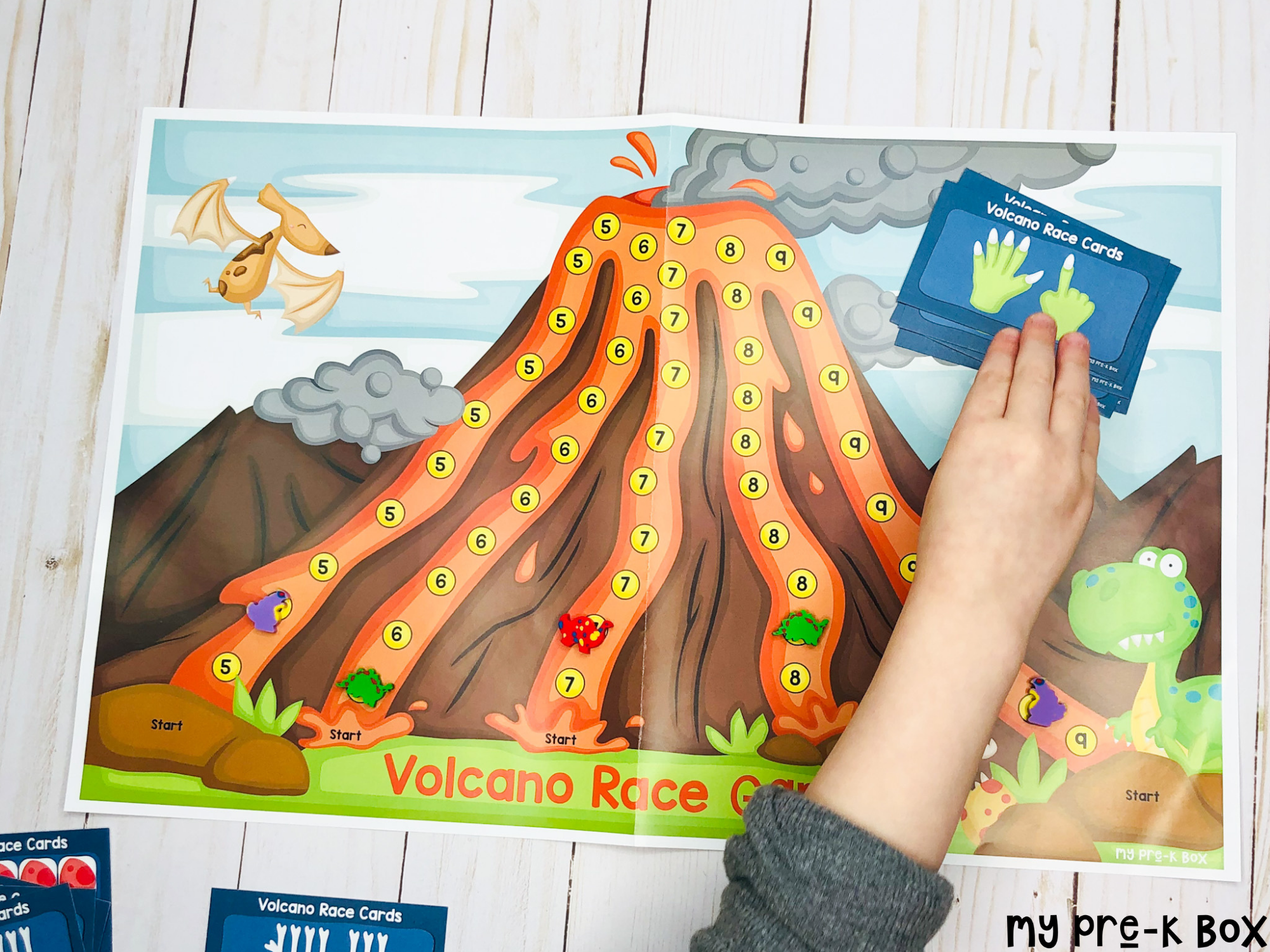 Since this game is a cooperative game, everyone is cheering for their favorite number to reach the top of the volcano first! Cooperative games mean no one person wins the game. It's usually a group effort to complete a task, like covering the board or moving all game pieces to a specific area. It can also mean that instead of a person winning, a number, color, shape, etc. is crowned the winner at the end of the game. These types of games are great for preschoolers to demonstrate working together and competition in a non-head-to-head manner.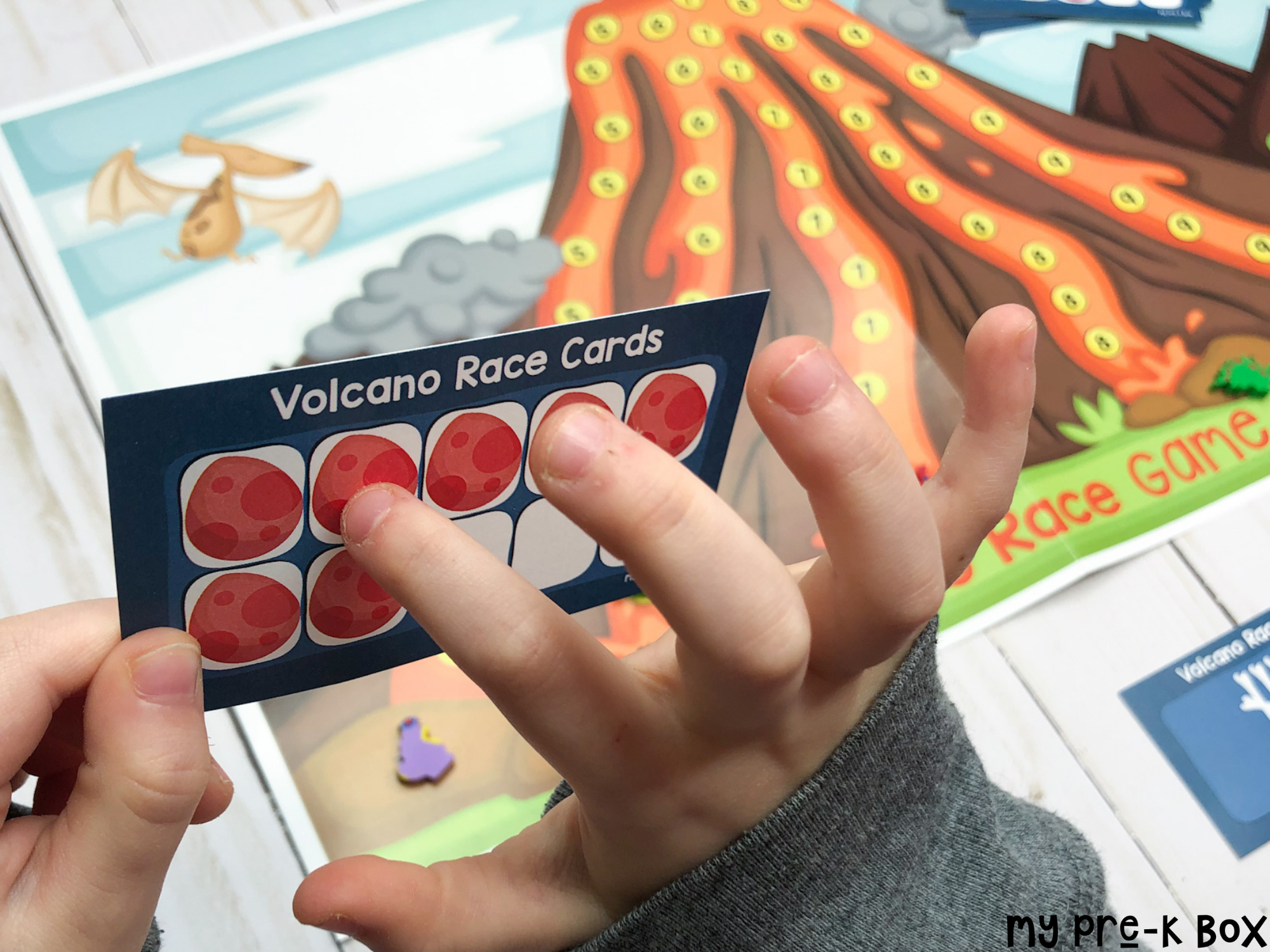 Erupting Volcano Rhymes
While most activities and games in the My Pre-K Box are completely no-prep, sometimes an activity does need some adult support. This game requires the cutting of these adorable volcano cut-outs and lava cards.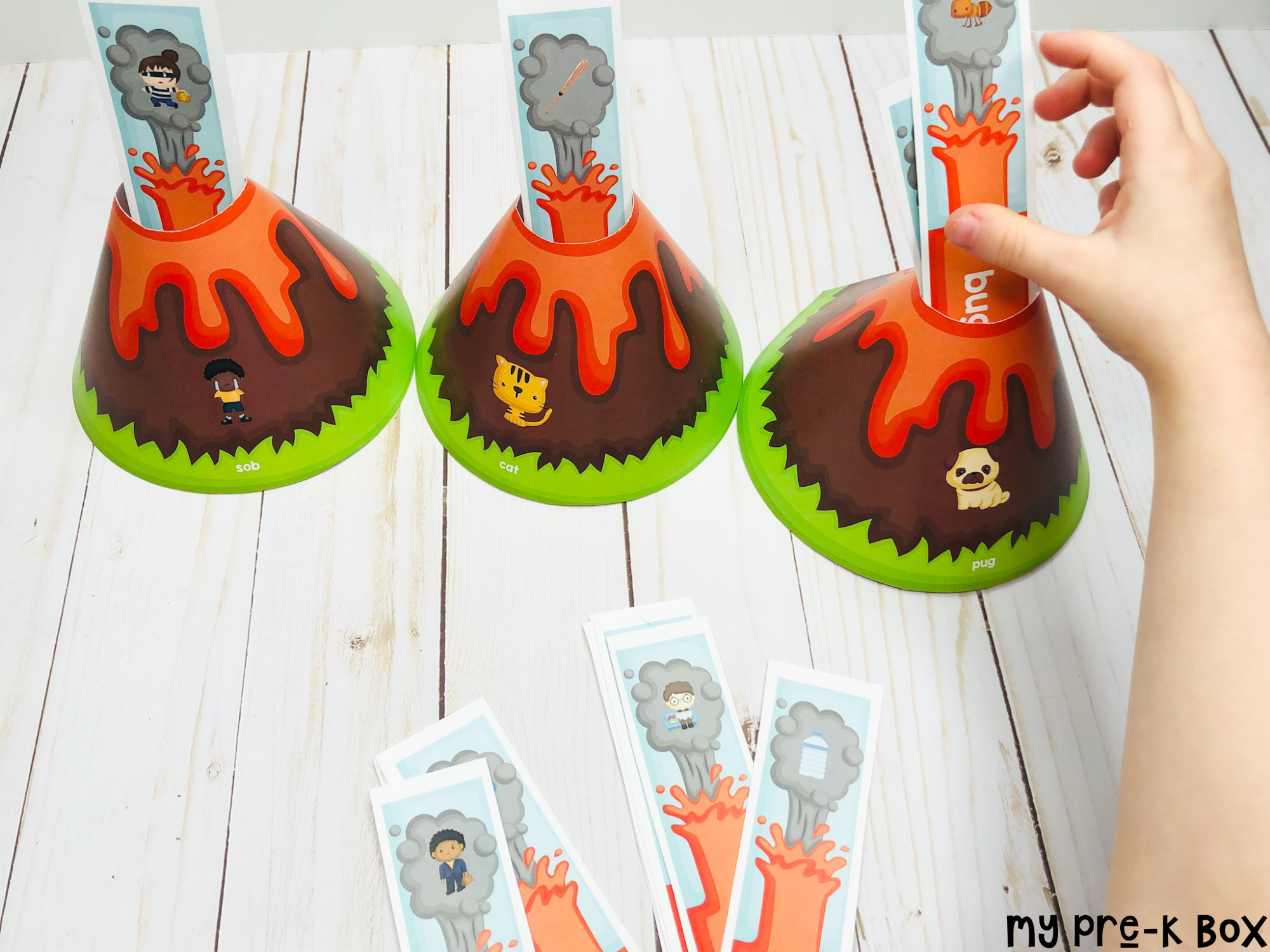 Once everything is ready to go, play begins with your preschooler choosing a "lava explosion" card that shows an image with a word. This game is perfect for all levels of learners and can be differentiated:
Beginner children can identify the image while the adult reads the word

More advanced children may try to sound out the word
Once the image and word have been announced, the child will find a volcano that has a word that rhymes with their lava card.
This rhyming activity is perfect for working with your child or could be an activity they work on without support once they understand how to play.
Fine Motor Activities
Another important Kindergarten-readiness skill is fine motor skills. My Pre-K Box includes engaging crafts and themed sensory activities so your child will get their hands moving and work on things like grasping objects, manipulating different materials, and even drawing.
The Dino Box includes a fun "excavation egg" sensory activity that needs carefully chipped away to reveal a fun surprise.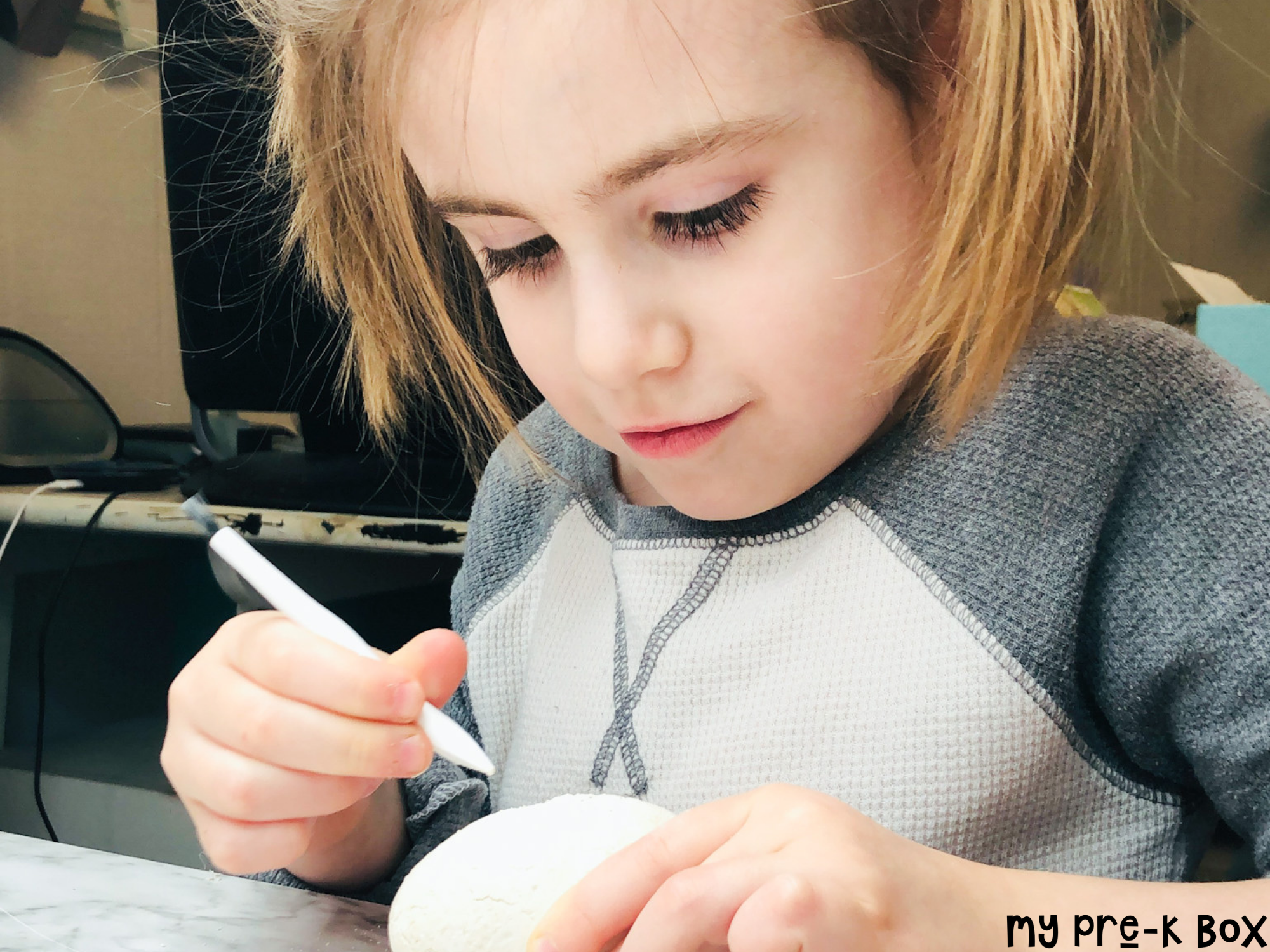 There's also a really exciting craft project that allows children to make their very own dinosaur fossil and paint it when completed. (Don't worry, if your preschooler has siblings that love crafts too, you can add on a Sibling Craft kit for a small, additional fee!)
These are just a few of the activities from The Dino Box. Each box has several math and literacy activities as well as hands-on fun. Each box covers different skills, so you know you're ensuring your child is focusing on a variety of concepts.
Preschool Skills Covered
My Pre-K Box covers so many different and important preschool skills each month. With each month you'll always see new skills, exciting themes, and fun activities when you open your box. The boxes also make it so easy to store your activities and have them ready for play and practice at any time!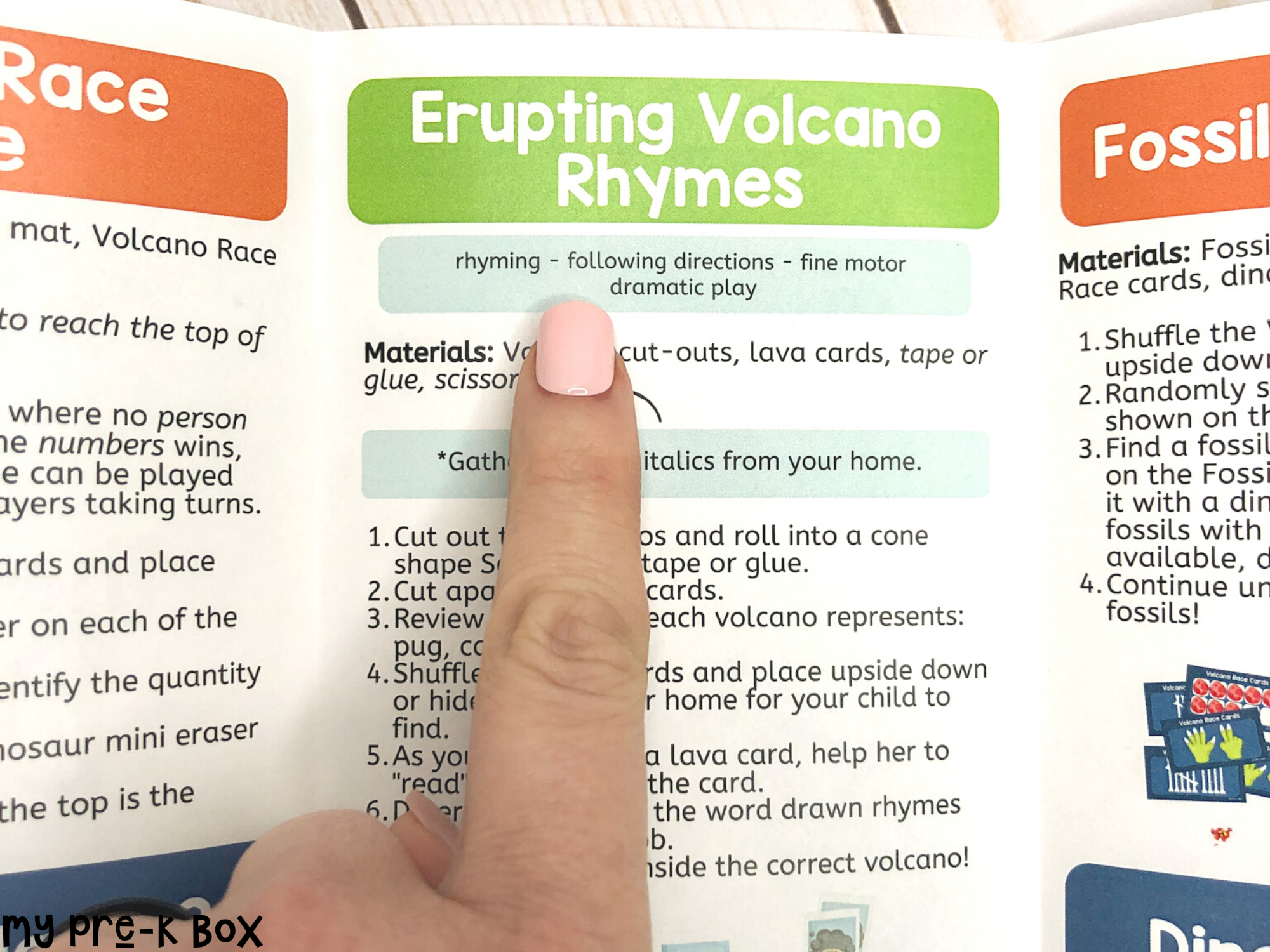 Plus, each box includes easy-to-follow instructions for each activity. The skill that your preschooler will be practicing is listed for each of the games so you can easily come back to specific skills later on if needed.
Just some of the skills that My Pre-K Box covers:
shapes

patterns

numbers

graphing

measuring

letters

rhyming

syllables

blending

sequencing

stem
A subscription saves time and frustration when trying to ensure your child is working on all the important skills they'll need in Kindergarten. Learn more about My Pre-K Box subscriptions here.
Let's Connect!
Also, if you aren't already, be sure to follow us on Facebook and Instagram for more fun activities to do at home with your little ones plus more details on My Pre-K Box subscription boxes!
Haven't tried My Pre-K Box yet?
My Pre-K Box is the best monthly subscription box for kids ages 3-5!

Create, play, laugh, and learn - everything in one box delivered to your door each month!