Rosh Hashanah is just around the corner, and if you want to greet someone with a happy new year on this sacred occasion, you can make this really cute Shanah Tovah Card that features a 3D apple, which is a primary symbol of the occasion. Join us in another fun crafting adventure today at My Pre-K Box!
My Pre-K Box: The best subscription box for kids ages 3 to 5!
My Pre-K Box is an educational subscription box for preschoolers filled with different learning activities for math and literacy skills! Each box is based on a different theme and is focused on play-based learning. Your kids will love exploring new activities each month while practicing kindergarten readiness skills!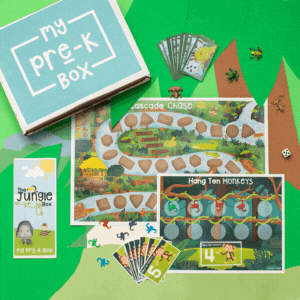 We say "Shanah Tovah" to greet Jewish people on Rosh Hashanah, which is one of their New Year celebrations. And if your child has Jewish friends or classmates, you can make this Shanah Tovah Card Craft to show your respect for their beliefs and to help them celebrate this special holiday.
Materials for the Shanah Tovah Card Craft:
paper or cardstock

printer

scissors

glue
Procedure in making the Shanah Tovah Card Craft:
Step 1 Download our Print & Go Shanah Tovah Card Craft. Then, print it on white paper or cardstock.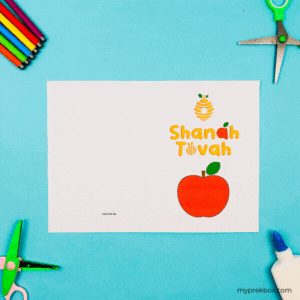 Step 2 Get the page with apples, seeds, and leaves (page 6 in colored and page 9 in black and white). Cut them all out to create the 3D apple. If you chose the black and white version, you can also color the parts at this point.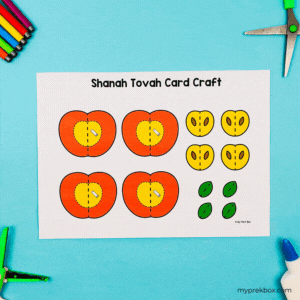 Step 3 Fold the 3D apple parts in half and glue them together, making sure not to glue them all the way around. Start with the yellow apple core with seeds by gluing one on each apple.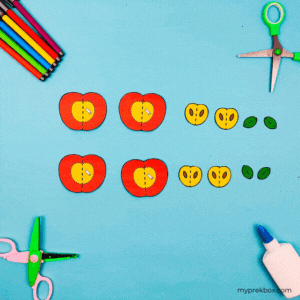 Step 4 Next, attach one side of the folded apples to one another. Leave the edges flat to glue them to the card body.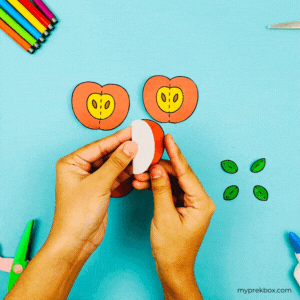 Wait up…

Get your welcome gift here!

It's almost fall season and if you want some math and literacy activities for your preschooler to practice, you can check out this Fall Harvest Preschool Fun Pack! Kids will love the fall theme and will keep them engaged and attracted to the activities. Grab your free copy now!
Step 5 Now, do the same for the leaves! Attach one side of the folded leaves to one another, leaving the edges flat to glue on the card body later.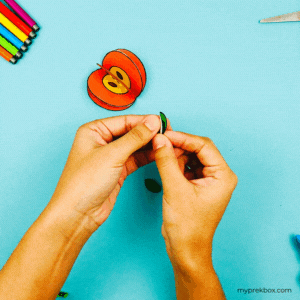 Step 6 Glue the 3D apple and leaf on the front page of the Shanah Tovah Card.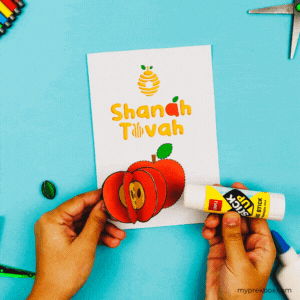 Step 7 Lastly, attach the page with a honeybee illustration and space for greetings at the back. Fold it in half and write a New Year's message on the blank space inside. Shanah Tovah!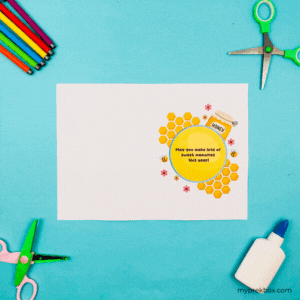 Before you go…

Here's a freebie for your little one!

If you love this Shanah Tovah Card Craft, you might also want the Print & Go Rosh Hashanah 3D Honeybee Card Craft! It is another printable card craft you can use to introduce this special occasion to little kids. Practice fine motor skills, while celebrating the holiday!
What will your child learn in making the Shanah Tovah Card Craft?
| | |
| --- | --- |
| | The Shanah Tovah Card Craft is a wonderful and simple way to introduce children to Rosh Hashanah. Doing this can help kids build their fine motor skills by cutting, pasting, and putting the card together. Moreover, it enhances their emotional intelligence and social skills. Even if you are not Jewish, you may teach your child to respect their religious views by making and giving them this Shanah Tovah Card! |
What do you think of the Shanah Tovah Card Craft? We hope you enjoyed it as much as we do! And if you want more fun crafts to practice your preschooler's fine motor skills, you might want to get a monthly subscription from My Pre-K Box to get exciting surprises every month!
You'll surely love it too as much as your kids because each box is filled with play-based, hands-on learning tools that target math and literacy skills. It also includes sensory play, fun thematic crafts, and a grownup guide to help you in guiding your little one! Plus, it is very practical and budget-friendly because the games and activities are mostly reusable! So, if your child has siblings, it can be shared and can be used again and again! We also offer duplicates of non-reusable crafts for only $3.25 a month. And those who love our crafts can also subscribe to our Craft Lovers Upgrade for just $4.25 per child.
My Pre-K Box takes all the searching, prepping, and stress out of planning preschool activities for your 3-5-year-olds. Each month, we focus on a different set of Kindergarten readiness skills and provide all the materials and instructions you need right in the box. You'll never have to worry about what activity to do next or spend hours looking for ideas online again.

Let's Connect
Love this Shanah Tovah Card Craft? Then, LIKE and FOLLOW our Facebook and Instagram pages to get more fun crafts and fine motor activities like this! We have art projects, themed worksheets, and free printables too! Share photos of your little ones making our crafts by using the hashtag #myprekbox! We'd love to hear from you!
Want to try My Pre-K Box?
My Pre-K Box is the best subscription box for

kids 3-5 years of age!

Everything you need to play, create, explore,

learn, laugh, and enjoy!