Fall is immersed in activities centered around apples and pumpkins! It's fun and all, but it can be a bit exhausting. Well, if you're looking for a fun, hand-on, albeit slightly messy activity, try out this apple smash. You'll love watching your kids' enjoy the sweet satisfaction of smashing these cotton ball apples!
My Pre-K Box: The Best Educational Subscription Box for Preschoolers
My Pre-K Box is an educational subscription box for preschoolers aged 3-5! We deliver the most fun play-based preschool learning available! Each box has its own unique theme and is filled with different learning activities to target math and literacy skills. Your kids will have fun exploring the new activities, and you will delight in the fact you are helping them with essential Kindergarten readiness skills! These kits are delivered straight to your door and are sure to get your child into the spirit of the holiday AND learning.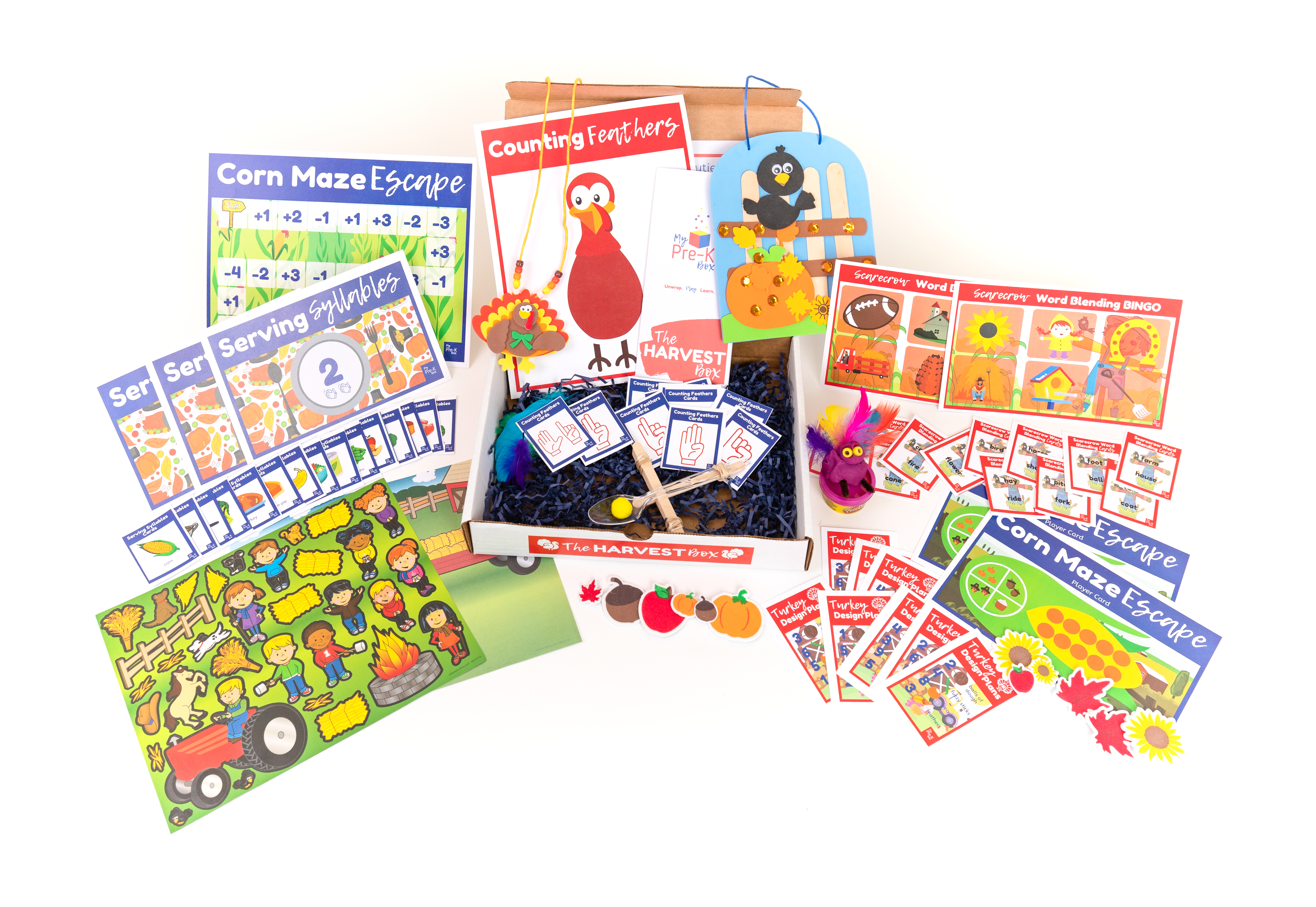 Check out these FREE Harvest Worksheets!

Check out our FREE harvest themed preschool worksheets! These fall themed worksheets are perfect for children aged 3-5! They target important preschool skills like counting, capital and lowercase letters, sorting, and more


Included in the FREE Preschool Harvest Worksheets:

Autumn Count and Compare

Pre-Writing Harvest

Pumpkin Shapes

Tractor Pull Letter Match

Fruit and Veggie Sort

Fall Harvest Beginning Letters

Fall Decorations Count and Color

Leafy Rhymes Clean Up
Get your Harvest-Themed Preschool Fun Pack
Cooking Up Smash Apples
Ingredients:
flour

water

food coloring

cotton balls

baking sheet

aluminum foil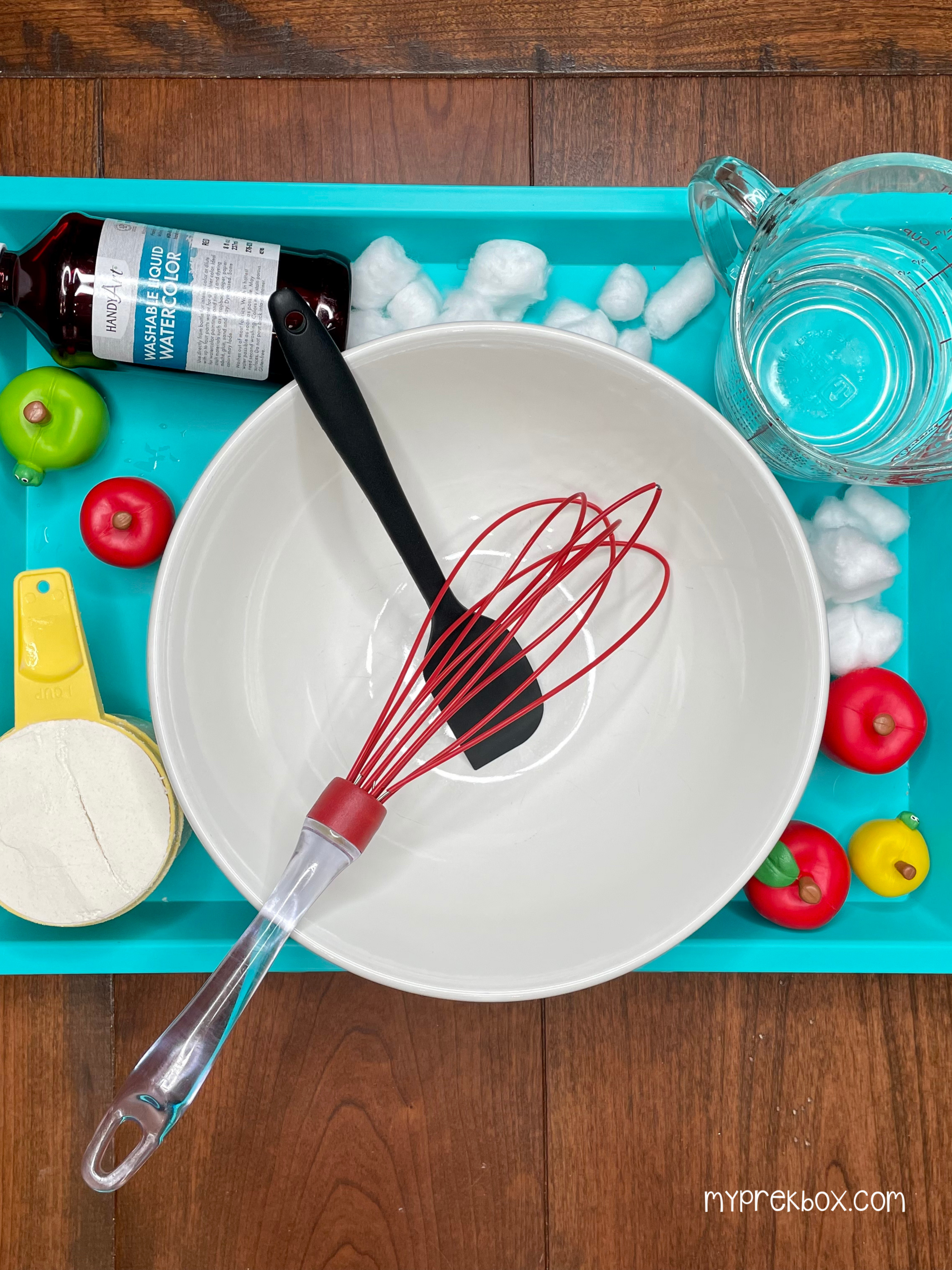 Instructions:
Step 1 Start off by mixing the flour with the water. It is equal parts water to flour (you most likely only need ½ cup of each). The consistency will look like a runny paste.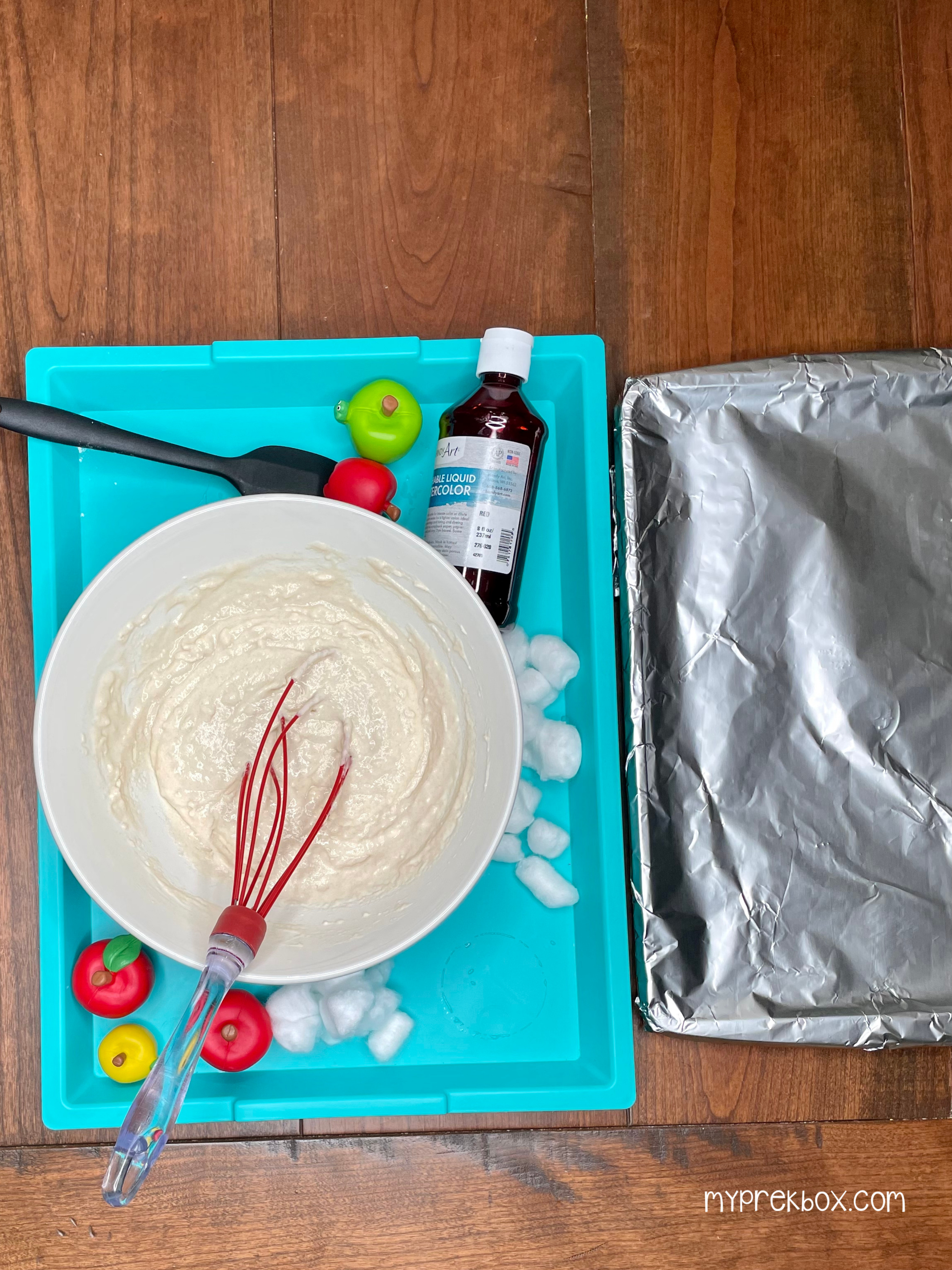 Step 2 Add in the colored food dye to your flour mixture. You'll add in as much food dye as you'd like until you get the desired color. If you want to make them orange, you can create smash pumpkins instead of apples!
Step 3 Once you have the right consistency and color, drop your cotton balls into the mixture and fully cover them with the mixture.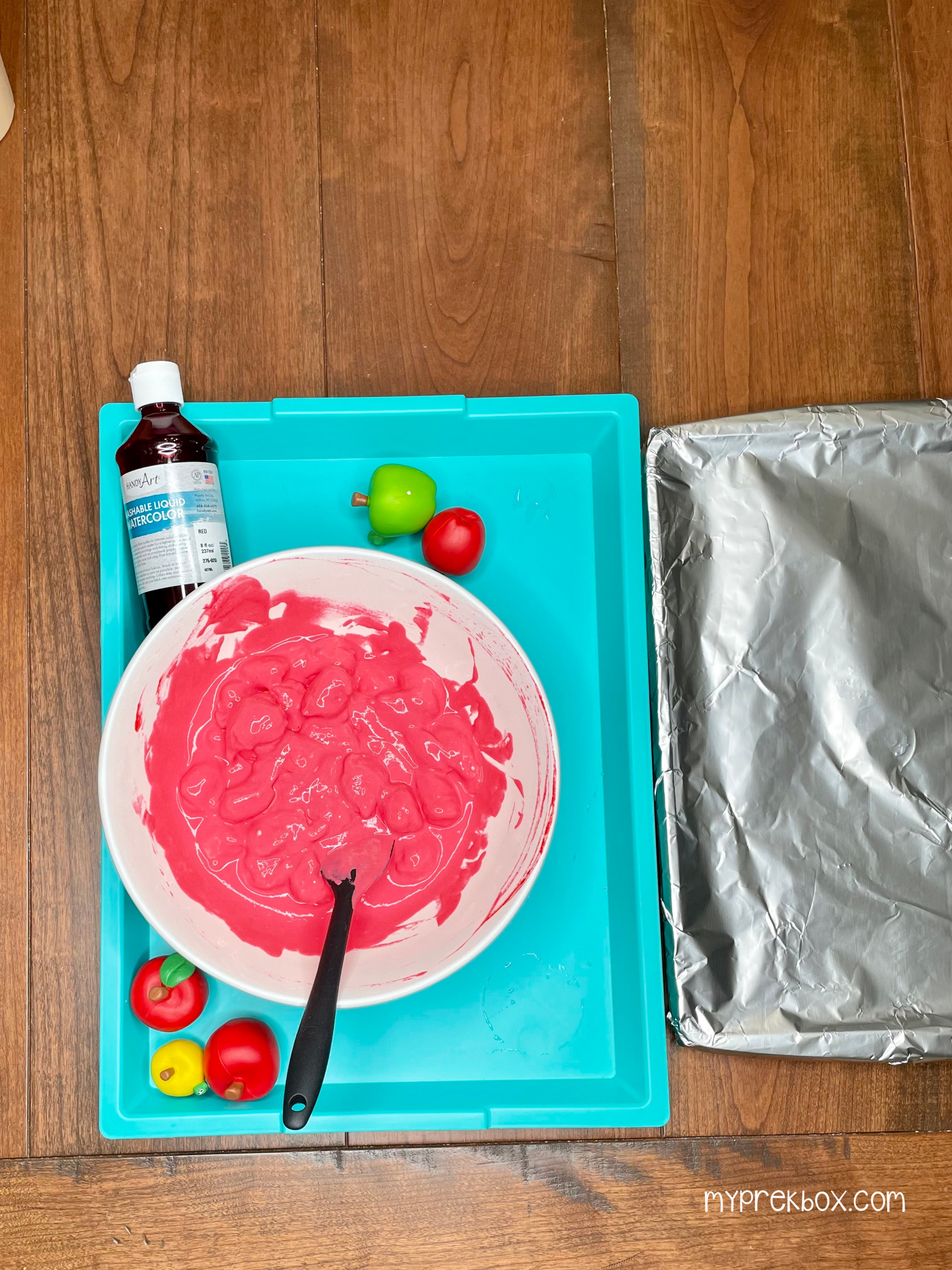 Step 4 After they've been completely covered, spoon out the cotton balls and bake them in the oven at 300 degrees for 45 minutes or until they have a hard outer shell.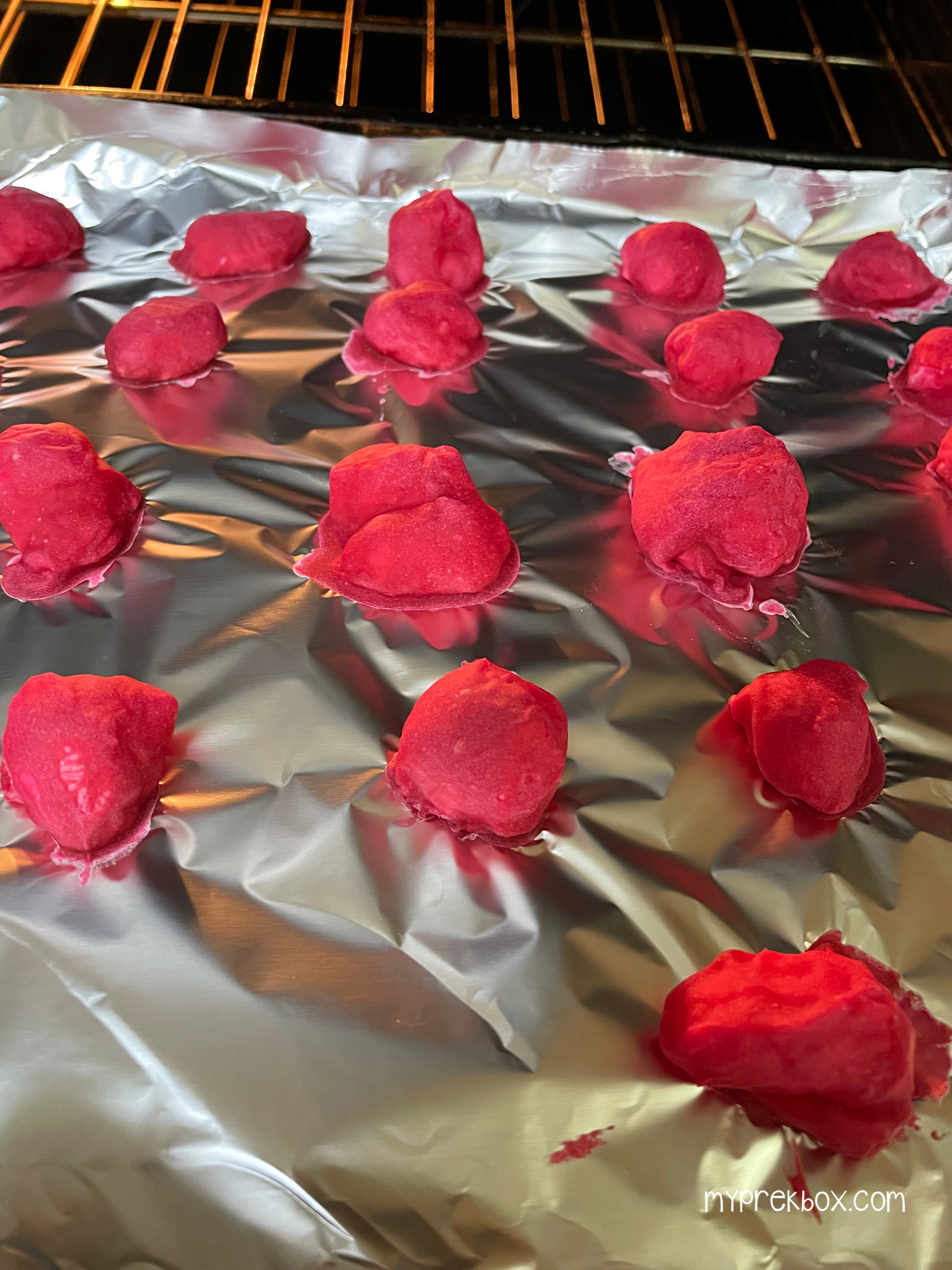 Step 5 Let them cool and then let the smashing good times begin! Take your "baked" apples or pumpkins to a safe space where your child can smash them with a mallet hammer. We used an old board as a hard, flat surface which made the smashing easier.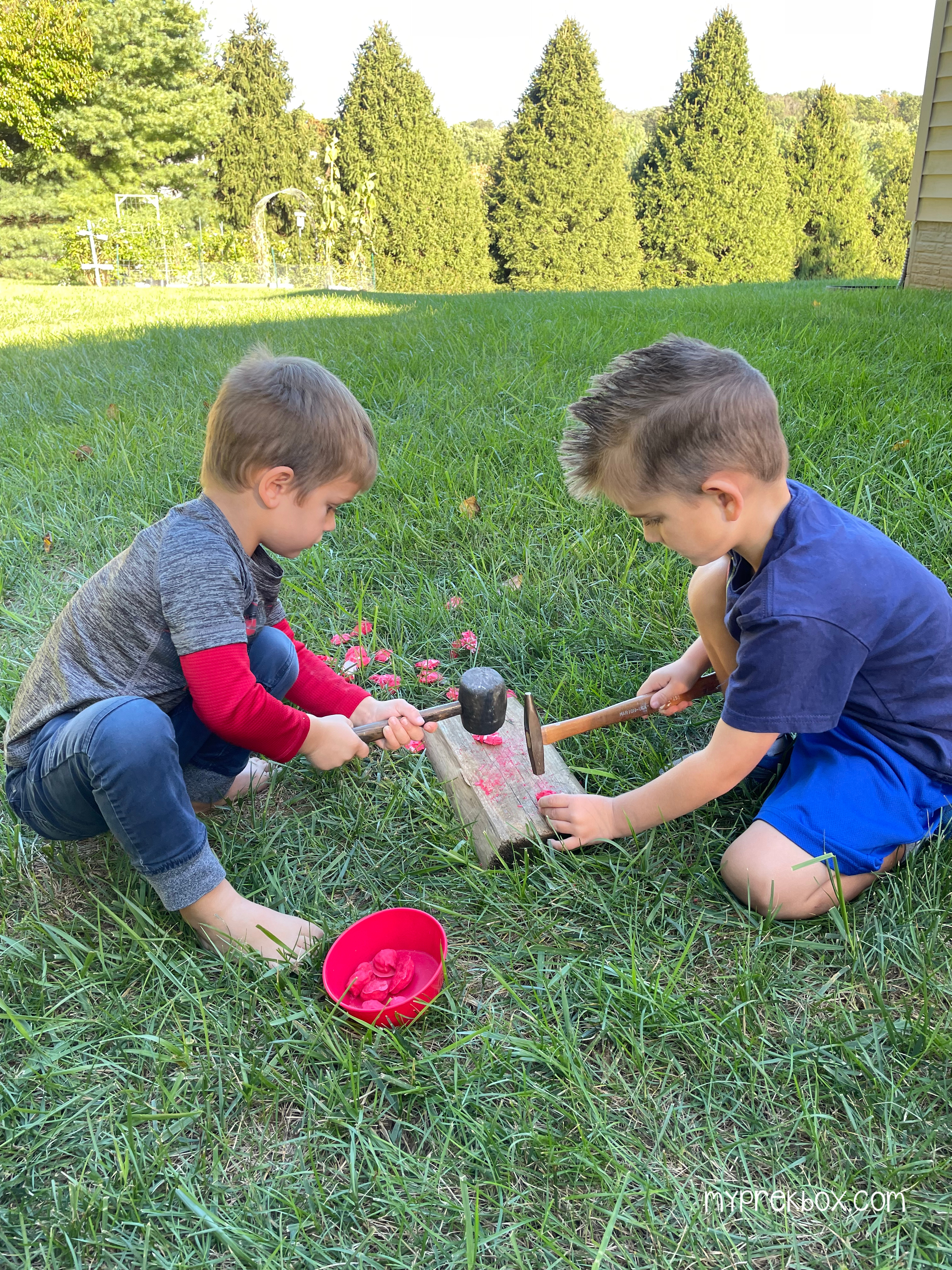 This activity is fun on it's own. You'll enjoy observing the hard outer shell (encourage your child to squeeze the "apple" once you've baked it--you'll be surprised at how hard it is!) and pulling apart the smashed apple to observe the softness of the cotton inside.
Ways to Build onto Your Apple Smashing Fun!
This activity is a blast all on it's own, but if you're wanting to make this more educational, here are a few ideas. You can have your child count out the number of apples and then as you smash apples, talk about "taking away" apples as a pre-subtraction conversation. You can use a song and either play or sing it with your child as you smash the apples (I've included a few ideas below). You can write letters on the baked apples and as you call out a letter, your child smashes it.
Apple-Themed Songs
Link to Five Apples in the Apple Tree
Link to Farmer Brown Had 5 Apples
Link to 10 Apples
Let's Connect!
We absolutely LOVE seeing your preschoolers learning through play! Please take photos and videos of your child's work and share your photos with us on Facebook and Instagram!
Also, if you aren't already, be sure to follow us on Facebook and Instagram for more fun activities to do at home with your little ones!
Haven't yet tried My Pre-K Box?
My Pre-K Box is the best monthly subscription box for kids ages 3-5.

Everything you need to create, play, laugh, and learn!