To close out the year, My Pre-K Box has compiled holiday crafts and activities for your preschooler that are centered around a variety of cultural celebrations. Some may be festivities you and your family are well-versed in, while others present an opportunity to introduce new concepts and customs. As with all things My Pre-K Box, each of these holiday activities for preschoolers is ideal for children ages 3 to 5 and helps reinforce important educational skills in fun and memorable ways.
My Pre-K Box: The Best Educational Subscription Box for Preschoolers
My Pre-K Box is an educational subscription box for preschoolers aged 3-5! We deliver the most fun play-based preschool learning available! Each box has its own unique theme and is filled with different learning activities to target math and literacy skills. Your kids will have fun exploring the new activities, and you will delight in the fact you are helping them with essential Kindergarten readiness skills!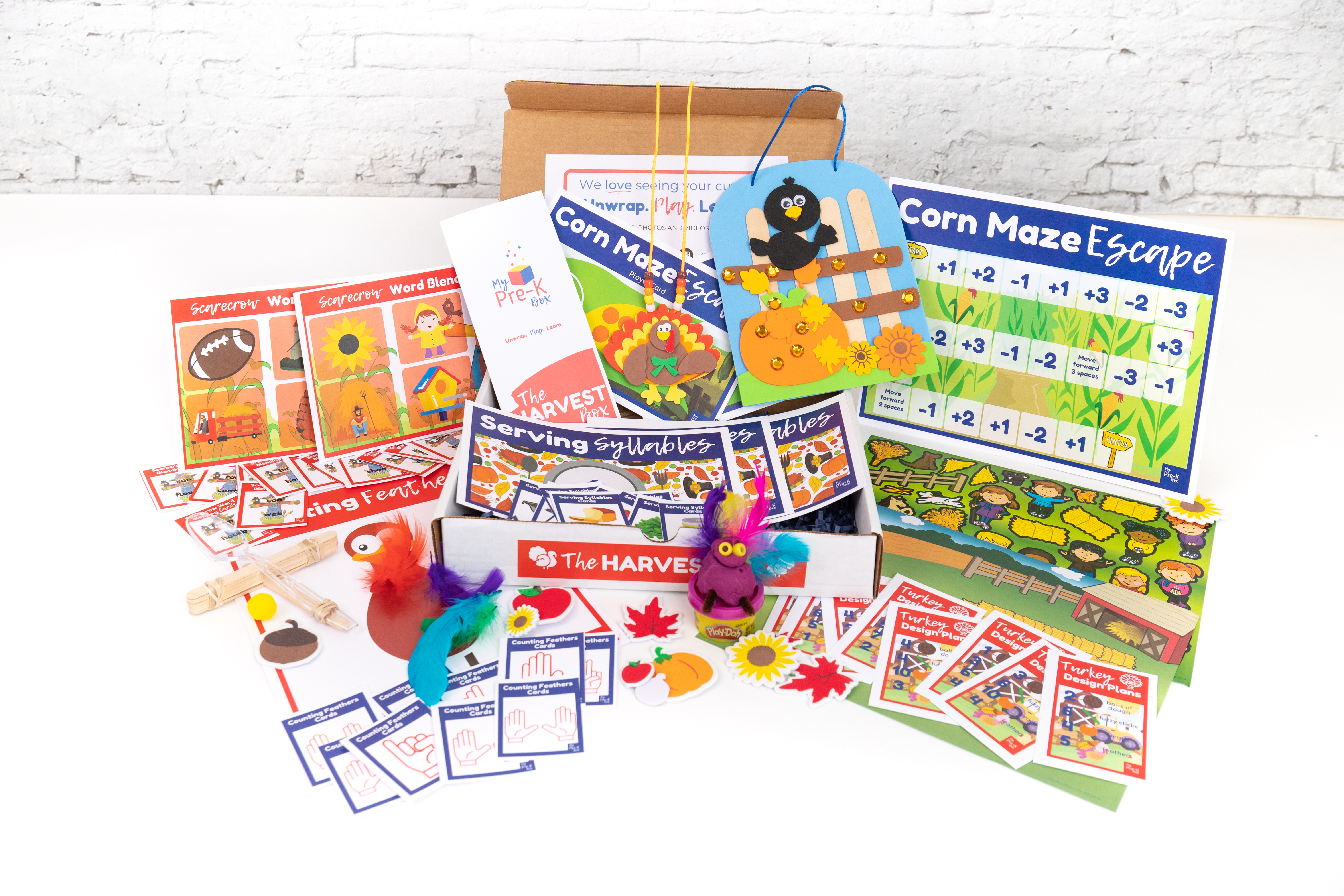 Can't wait for your box to get to you? Check out these FREE Harvest Worksheets!
These harvest themed worksheets are perfect for children aged 3-5! They target important preschool skills like counting, capital and lowercase letters, sorting, and more!

Included in the FREE Preschool Harvest Worksheets:

Autumn Count and Compare

Pre-Writing Harvest

Pumpkin Shapes

Tractor Pull Letter Match

Fruit and Veggie Sort

Fall Harvest Beginning Letters

Fall Decorations Count and Color

Leafy Rhymes Clean Up
Get Your Harvest-Themed Preschool Fun Pack!
First up: Diwali
What is Diwali?
Diwali is a five-day festival of lights, celebration, and prosperity. It is one of the most significant annual festivals celebrated by Hindus, Jains, Sikhs, and some Buddhists. Marked by visually stunning displays that are overflowing with vibrant colors, the festival is a symbol of how good (light) wins over evil (darkness).
Around the world, Diwali is celebrated by decorating and lighting up your house and workplace, both inside and out. In the days before Diwali, people prepare by cleaning, renovating, and decorating with diyas (small cup-shaped oil lamps) and rangolis (colorful art circle patterns). Several cities in India also set off fireworks displays.
When will Diwali be celebrated in 2021?
The first day of Diwali begins on November 1, with the biggest celebration taking place around the world on November 4.
Interested in learning more about Diwali?
These three children's books are perfect supplements to the Diwali crafts for preschoolers compiled below.
The Diwali Gift - Shweta Chopra
Let's Celebrate Diwali - Anjali Joshi
Amma, Tell Me About Diwali - Bhakti Mathur
Diwali Crafts and Activities for Preschoolers

Diwali Bells
In addition to diyas and rangolis, families celebrating Diwali create colorful displays to welcome the goddess of wealth and prosperity into their homes. These often include lights, bells, flowers, mirrors, and other ceremonial objects. Bells are historically a symbol of celebration and welcoming new beginnings. Although these bells make no noise (you're welcome), their symbolism and bright colors ring true to the festival of Diwali.

Materials:
Disposable cup in any color

Color or glitter tape

Stickers, gems, or colored paper cut into various shapes

Ribbon, yarn, or string

Pom-poms

Glue

Scissors
Instructions: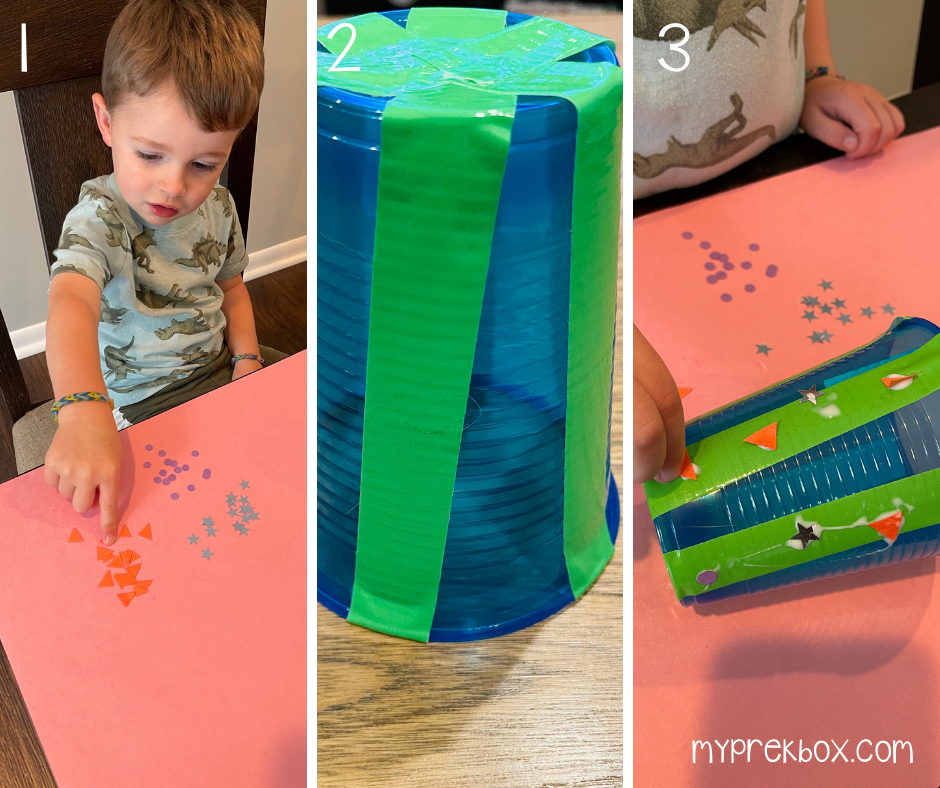 Step 1 Before constructing the Diwali bell, help your preschooler identify each shape they will later stick to the cup. Talk about what makes the shapes unique and take turns providing examples of each shape that appears around your home.
Step 2 Place pieces of tape vertically on the cup, about 1-inch apart.
Step 3 Glue or stick the shapes onto the strips of colored tape. Help your child create a repeated pattern with the shapes. For example, 1 circle, 1 triangle, then 1 square. You can switch the pattern for each subsequent tape strip or mimic throughout.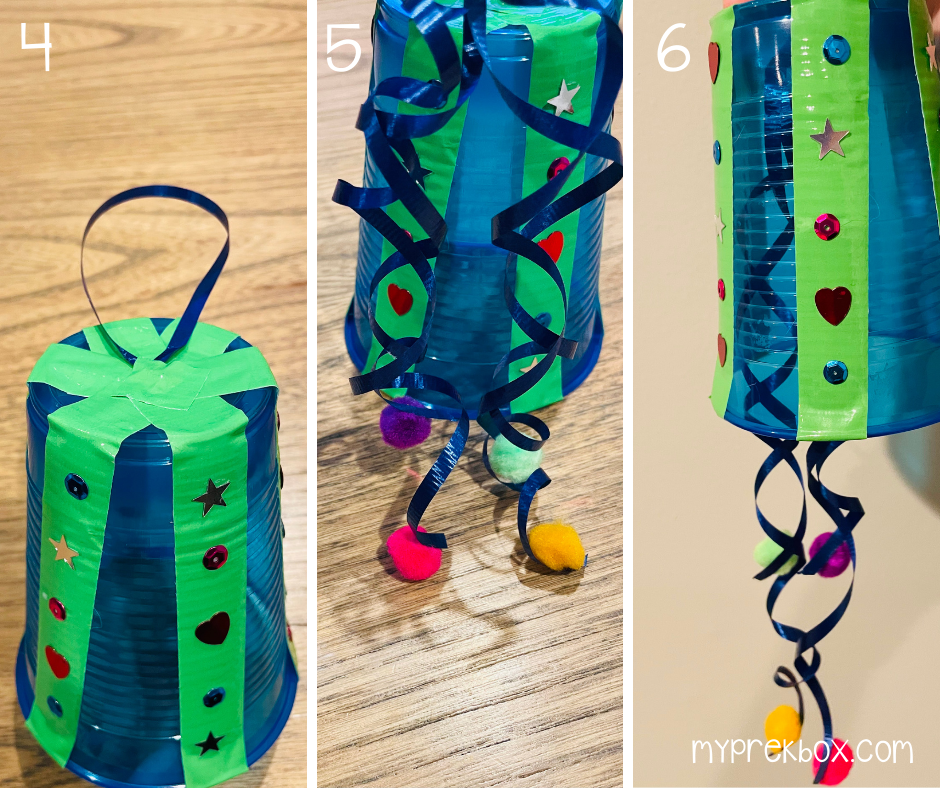 Step 4 Cut a small piece of ribbon, tie it into a loop, and adhere it to the top of the cup to serve as a handle.
Step 5 Cut 5 longer pieces of ribbon and curl if desired. Glue pom-poms to the ends of the ribbon.
Step 6 Glue the ribbons to the inside of the cup so they hang down.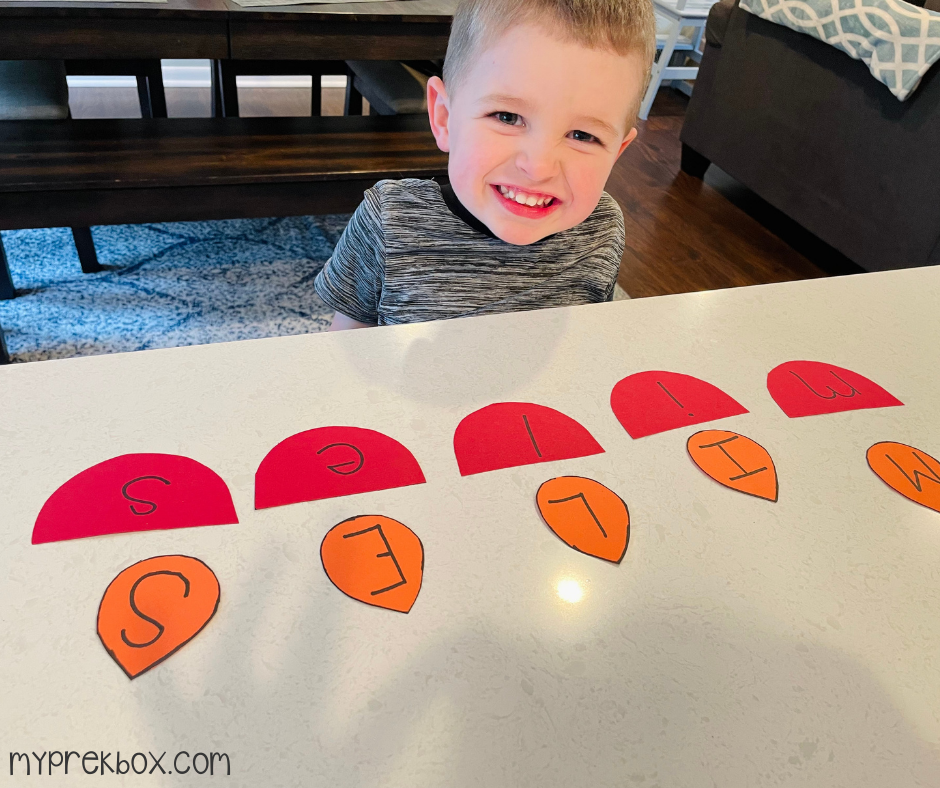 Name Recognition Diyas
During Diwali, one of the primary decorations you will find in people's homes are diyas, which represent enlightenment and wisdom. Lit in the morning and at night, these small candles signify illuminating the darkness within the home as well as within the personal lives of those who recognize the holiday. Here, we are using diya replicas to shine a light on your little one's name.
Materials:
2 pieces of color paper

Scissors

Marker
Instructions: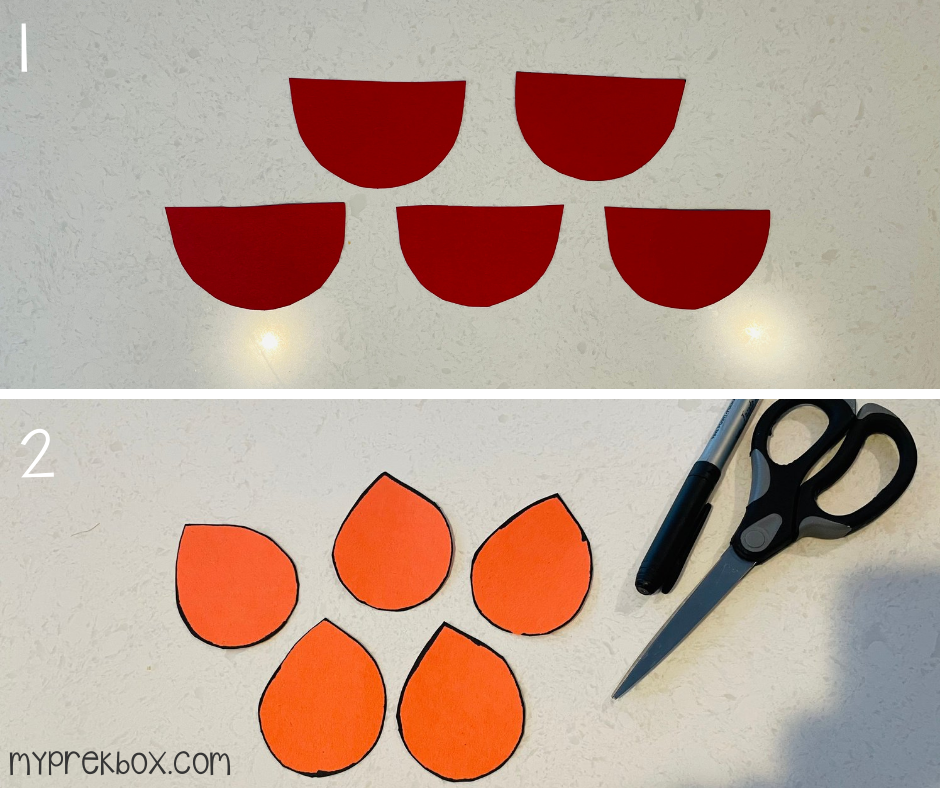 Step 1 Use 1 piece of paper to cut the base of the candles. Diyas are traditionally shallow and mimic the shape of a cup. You will need 1 base for each letter in your child's name.
Step 2 Use the second piece of paper to cut out flames.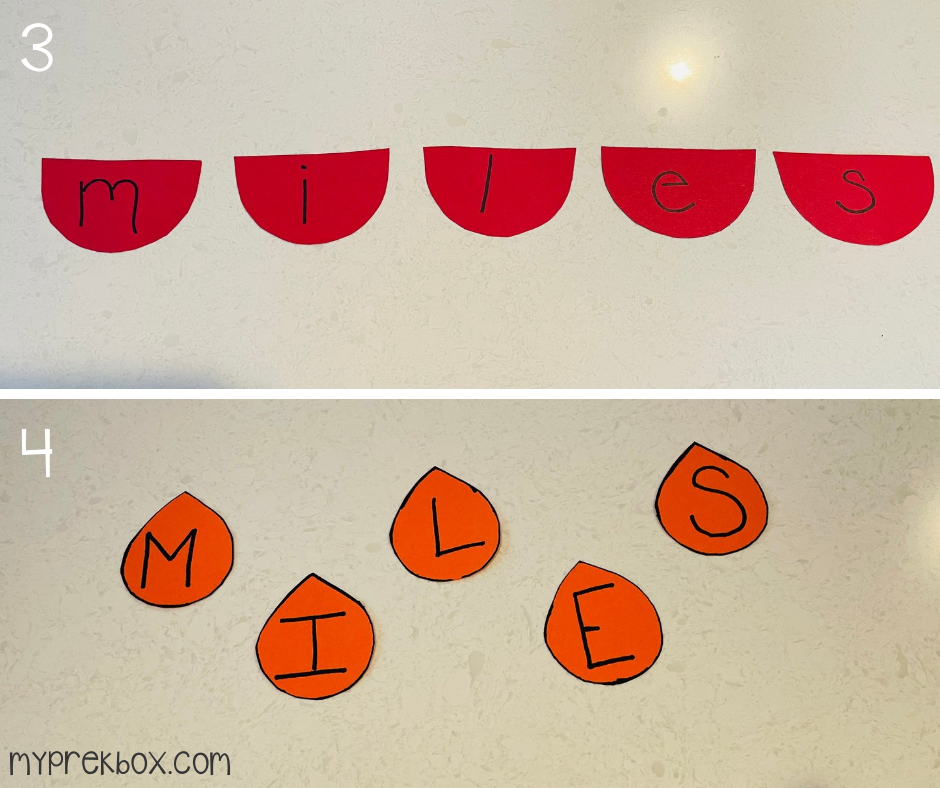 Step 3 On the bases, write your child's name in lowercase letters. One letter per base.
Step 4 On the flames, write your child's name in uppercase letters. One letter per flame.
Step 5 Take a moment to hide the flames around your home or backyard.
Step 6 Set the bases on a flat surface for your child to see. Review each letter and its correct order.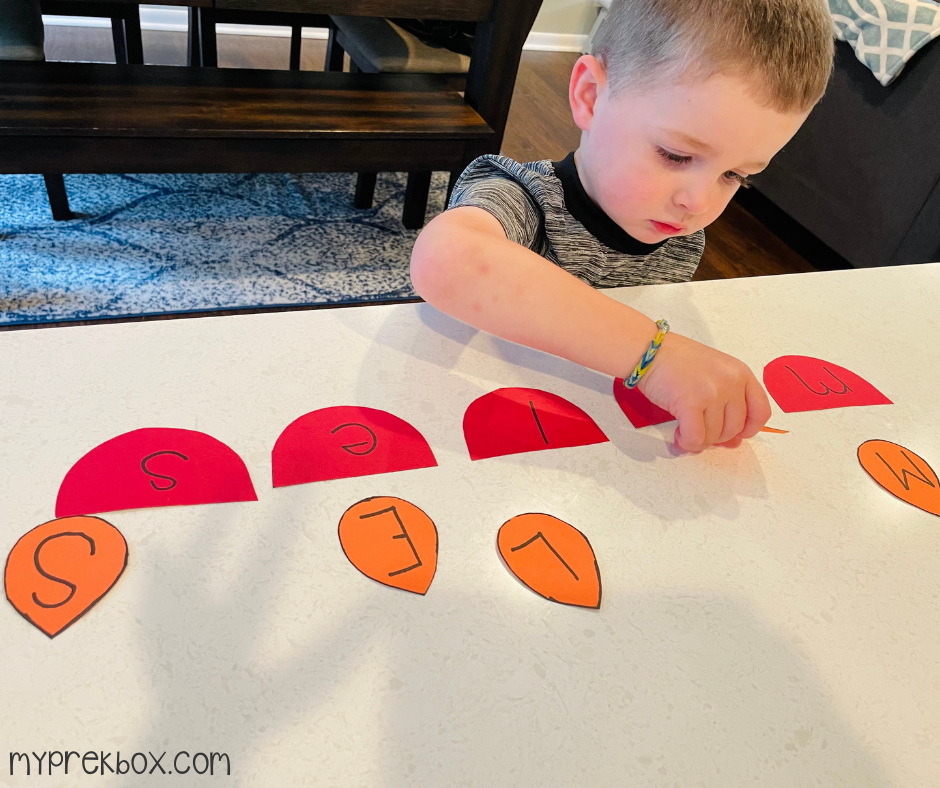 Step 7 Encourage your child to search for each flame and then match it with its corresponding lowercase letter on the base.
Step 8 Once all have been found, you can glue the flames to the bases or hide them again for round 2!

Rice Rangoli Designs
In addition to lights and bells, another decorative feature associated with the celebration of Diwali is rangoli designs. Rangoli patterns are created on the floor or a tabletop using materials such as powdered limestone, dry rice flour, colored sand, flower petals, or colored rocks. Traditionally, the designs are passed down from one generation to the next and can be a simple geometric shape, a flower, or a petal shape. The rangoli represents the happiness, positivity, and liveliness of a home, and is intended to welcome Lakshmi, the goddess of wealth and good luck.

Materials:
3 cups of uncooked rice (or .5 cup per color you want to make)

White vinegar

Food dye

Paper

Marker

Glue (optional)
Instructions:
Coloring the rice:
Step 1 Place a half-cup of uncooked rice in a ziplock bag or container
Step 2 Add ¼ teaspoon of vinegar to the rice
Step 3 Add 10+ drops of food dye to the rice
Step 4 Mix together until the grains are evenly coated
Step 5 Keep the bag or container open to allow the mixture to dry. It doesn't take long.
Step 6 Keep the bag or container open to allow the mixture to dry. It doesn't take long.
Repeat this process for each new color
**This is a perfect opportunity to introduce or revisit the idea of color mixing with your child. For example, add equal drops of yellow and red to one bag of rice and have your child guess what color will form once mixed.

Creating the rangoli:
Step 1 Draw—or have your child draw—geometric or floral designs on a piece of paper.
Step 2 Use the rice to fill in the drawing.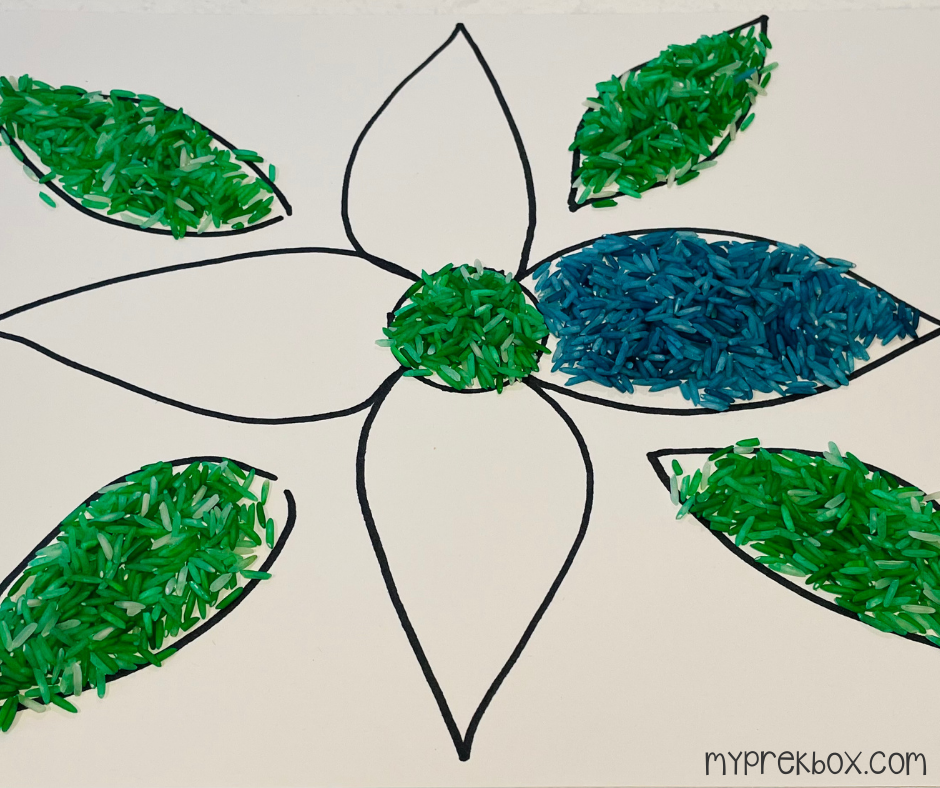 Step 3 Play around with new shapes and patterns.
Step 4 Is there a pattern your child particularly loves? Make the rangoli more permanent by adding glue to each section of the paper before placing the rice. Once completed, shake off any excess grains.
Let's Connect!
We absolutely LOVE seeing your preschoolers learning through play! Please take photos and videos of your child engaging in these Diwali crafts and activities and share your photos with us on Facebook and Instagram!
Also, if you aren't already, be sure to follow us on Facebook and Instagram for more fun activities to do at home with your little ones!
Haven't tried My Pre-K Box yet?
My Pre-K Box is the best monthly subscription box for kids ages 3-5!

Everything you need to create, play, laugh, and learn!