Are you at home with your preschooler and wondering...
What are some STEM activities I can do at home with my preschooler?
Kudos to you!  STEM stands for Science, Technology, Engineering, and Math! You may also have heard of STEAM which adds in the Arts (Science Technology Engineering Art Math) Little engineers, children are born curious and eager to explore their world. Preschoolers especially love tinkering, exploring, building, and solving problems. When we foster this innate curiosity about how things work, we help to develop a lifelong love of learning! These skills directly translate not only in the classroom as they get older, but also into the real world with their future jobs!
Today we'd like to give you a fun STEM challenge for you to do at home with your preschooler: Design a Pool! Your child will learn about the Engineering Design Process while creatively constructing their own mini-pool!
What is an Engineer?
Quite simply, an engineer is a person who designs and builds things to solve problems!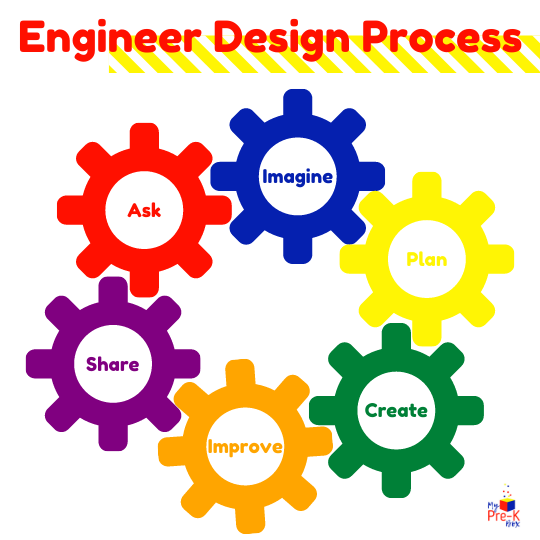 What is the Engineering Design Process?
The Engineering Design Process is a framework for solving problems. Engineers use this process to help them come up with innovative solutions to our everyday problems!
The Engineering Design Process is:


Ask: What is the problem?

Imagine: Brainstorm multiple solutions

Plan: Choose the best solution

Create: Design a prototype

Improve: Test the prototype. Receive feedback. Redesign and improve.

Share: Communicate and share your results!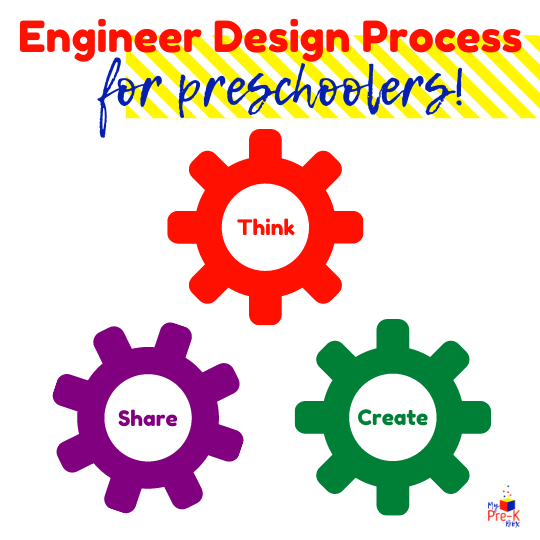 What is the Engineering Design Process for Preschoolers?
For little kids and young learners, we simplify the Engineering Design Process to be developmentally appropriate.  Here are the three important steps of the Engineering Design Process for Young Thinkers:
For young learners model the Engineer Design Process by telling them outloud the thoughts that come to mind. Verbally talk through the process.
Think

: "I am thinking...What is the problem? I am brainstorming some ideas. I think we could..."

Create

: "I think the best idea we have is...Let's test that idea and build/create/make it! Let's see. Did it work? Can we make it better?"

Share

: "I can't wait to share our design with (Mommy, Daddy, your teacher, your sister, My Pre-K Box, @myprekbox, etc)"
Design a Pool STEM Challenge for Kids
Let's get started with a fun NO PREP STEM challenge to do at home with your child! Today's challenge ties in perfectly with our My Pre-K Box's The Pool Party Box! Read more about The Pool Party's no prep, fun learning kit below!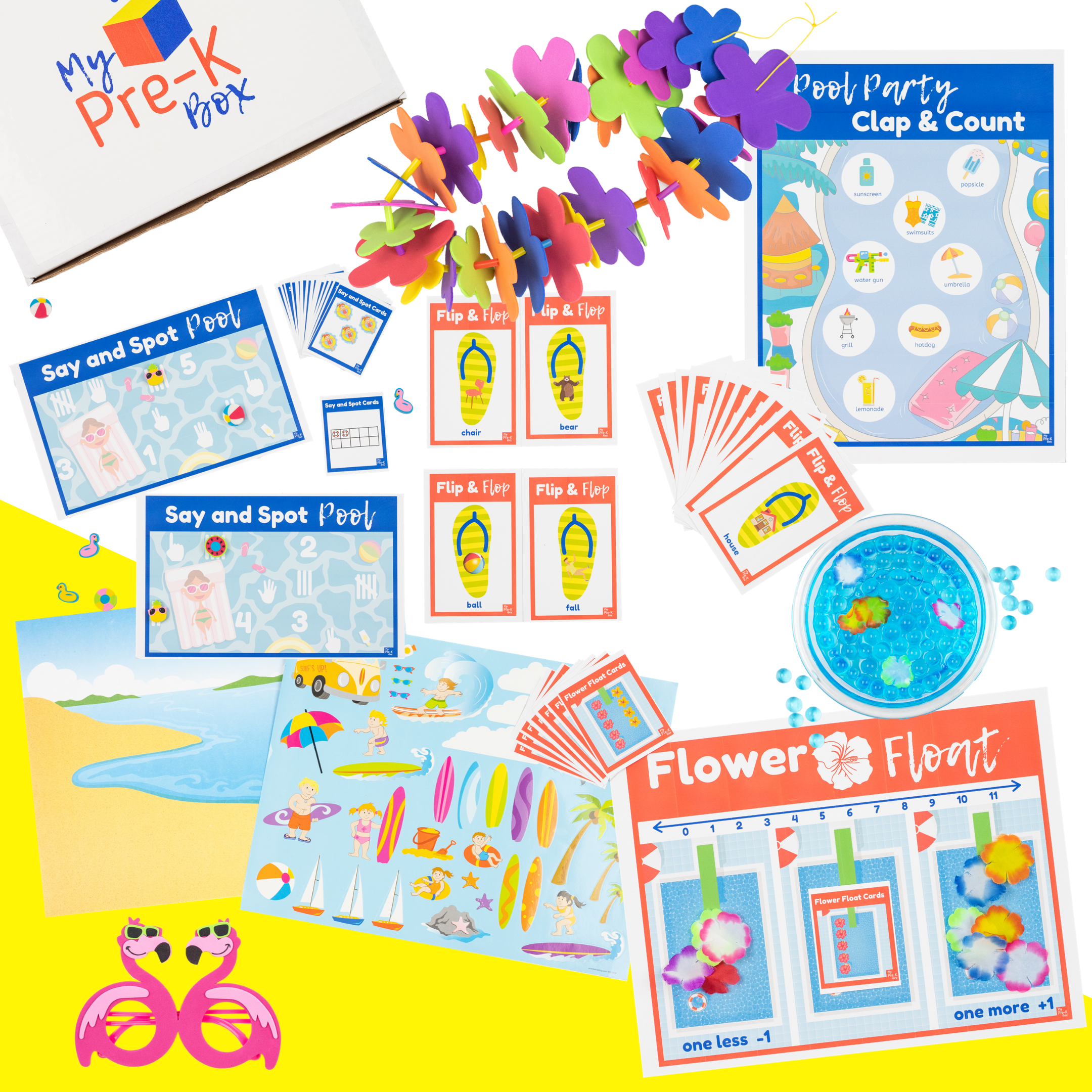 Engineering Process for Preschoolers
Step 1: Think
Explain to your child that today they are going to be an ENGINEER! An engineer designs and makes things to solve a problem! Today's problem is that their little toys need a pool to cool off and swim in! Can they design a pool for their toys? 
You can pull a few small figures out ahead of time to give your child some size constraints: "This lego man needs to cool off. Can you make a pool he will fit in?"
Explain the rule is that they can't use things like cups or bowls or pre-made containers to make the pool.  They have to use different materials!
Consider laying out materials to encourage their creativity. Things like...
wax paper

aluminum foil

rubber bands

tape

sticks

duct tape

plastic baggies

recyclables

glue

pipe cleaners

cardboard boxes

popsicle sticks
Start a discussion with them about how they might design the pool! Could they use a box and fill that with water? I wonder if the box would get soggy and the water would leak through? What if we lined the box with something...maybe aluminum foil? Or could we build a frame for the pool with pipe cleaners or popsicle sticks? Get creative here! The possibilities are endless!
Engineering Process for Preschoolers
Step 2: Create
Here comes the fun part! Let your child try out some of their design plan ideas! Like any good engineer, they will likely think of ways to improve their plans! It can sometimes be frustrating or disappointing when your initial idea doesn't quite work. Work with your child on enjoying the process and not getting too hung up on the product or results. Learning problem solving involves...well...a lot of problems that come up along the way!
Engineering Process for Preschoolers
Step 3: Share
DId you figure out a solution!? Wahoo!! Celebrate it!! Good engineers communicate and share their findings with others! Take a picture of your design and SHARE it.  Tag us using #myprekbox on Instagram or email us about your process at hello@myprekbox.com for a chance to be featured! We can't wait to see what you come up with!
Facetime a grandparent and show them your work. Set up your project and talk to a parent or sibling about all of the problems you ran into and how you solved the problem! 
Bonus: communicating your results also build social skills and language skills!
Extend the Learning with My Pre-K Box's The Pool Party Box
The Pool Party Box is our August box and is just SWIMMING with fun learning activities! Check it out!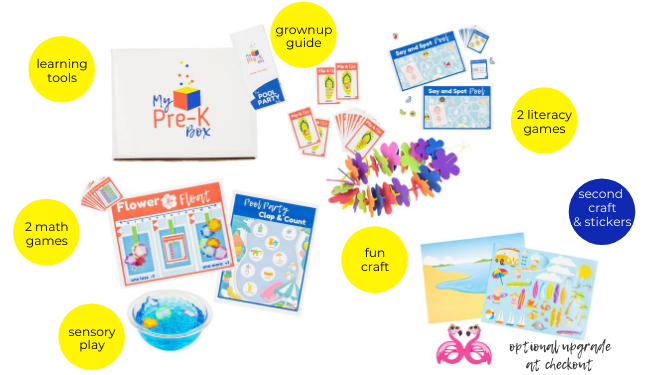 The Pool Party Box targets essential pre-kindergarten skills to help get your child ready for kindergarten! All of the activities are hands on and play based, and best of all there is no prep! Just open and go! 
Here are some of the skills they will learn:
counting

one-to-one correspondence

adding and subtracting: one more and one less

number identification

number sense

phonological awareness

syllables

rhyming

fine motor skills

creativity

independent play skills

social skills
My Pre-K Box is a super fun way to sneak in some learning in a way that just feels like PLAY! Check it out at on the My Pre-K Box website!