Robots inspire curiosity and encourage imagination. Who doesn't love a good robot-theme for preschoolers?!
That's why My Pre-K Box recently selected a robot activities theme for our monthly subscription box. Crafted for preschool-aged children between the ages of 3 and 5, The Robot Box (like all My Pre-K Boxes) was carefully curated to foster a child's passions and help them discover new interests. All while developing the gross and fine motor skills children need to succeed in school!
Most importantly, at My Pre-K Box everything we create must pass our crucial test: Will it make learning fun? If it is not entertaining and engaging, there is no space for it in a My Pre-K Box.
Why the emphasis on making learning fun?
As early childhood educators, curriculum developers, and moms, we know first-hand that enjoyment and happiness positively impact learning. And there is plenty of research to back up this belief. Recent research conducted by educational psychologists confirms students learn and retain more information when the learning is associated with strong positive emotions and is relevant to a child's interests and experiences.
OK, back to the boxes.
While each subscription box is designed to be fun and educational for preschoolers, we also want it to be simple and convenient for caregivers. There is no digging through craft supplies or running to the art store—everything needed for each activity is carefully separated and packaged inside My Pre-K Box.
As your child is racing to win a game or is focused on adding their special touch to a craft, a plethora of learning is happening in the background. Our educational activities for preschoolers have an emphasis on math, STEM, literacy, sensory, fine motor, and art objectives!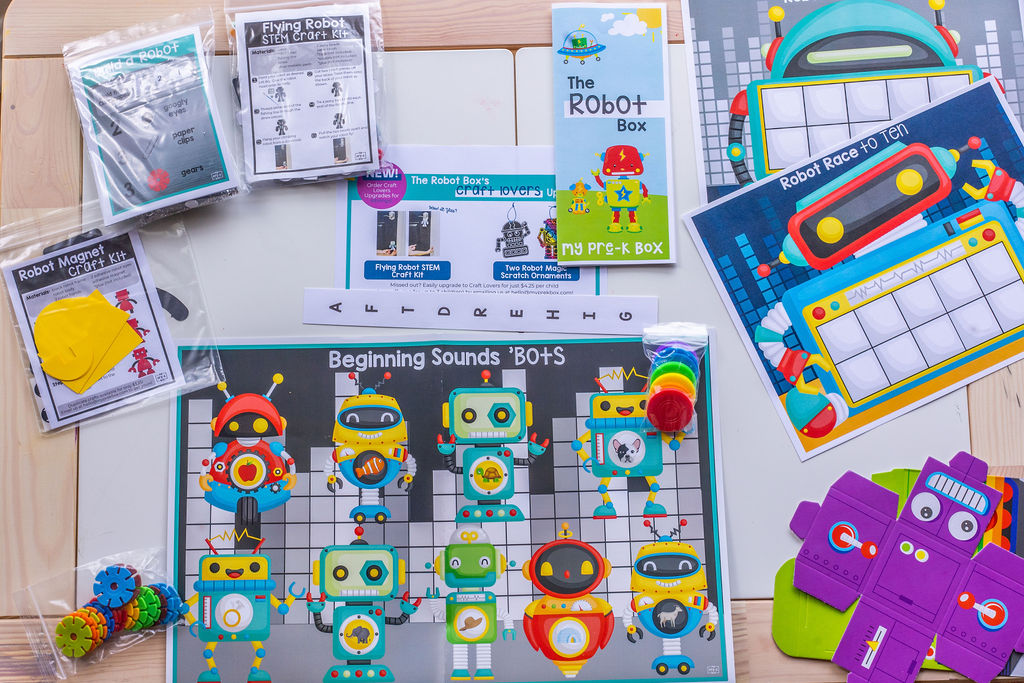 Looking for More STEM Preschool Acitivites?
Check out our FREE Preschool Science Fun Pack! These free science themed worksheets for preschoolers are great for teaching your preschooler important science concepts like:

Labeling parts of a plant

Weight of different objects

Taste

Animal habitats

Seasons

Weather

Sorting trash, recycling, and compost


...and more!
FREE Preschool Science Fun Pack
Let's look inside the Robot Box!
These robot-themed activities for preschoolers are the perfect mix of memorable crafts your child can complete now and games to create and play again and again. And there is no doubt that the quality of each item can withstand excited little hands.

BEGINNING SOUNDS 'BOTS
Using the provided game mat, Beginning Sound 'Bots introduces and reinforces letter identification and phonemic awareness, which is a good predictor of later reading success or difficulty. Starting by naming the icons on the mat was a great way to build my child's confidence before discussing the letters on the chips and the sounds they make. Once the game was underway, we were provided with multiple opportunities to get excited about the letter that was selected and repeat the sound it made. Each correct match was a victory for both of us.
Skills practiced: letter identification, beginning sounds, phonemic awareness, and vocabulary
Materials:
Beginning Sounds 'Bots game mat

Robot chips

Letter labels

Small container or cup (not included)
Instructions:
Step 1 Help your child adhere the letter labels to the robot chips.
Step 2 Decide whether you want to play with the capital or lowercase letters; set the others aside.
Step 3 Read all the picture icons on the game mat. Ask your child to name each picture or have them repeat after you.
Step 4 Place all of the letter chips into a small container and shake. Have your child close their eyes and select one chip.
Step 5 Help your child name the letter and identify the sound the letter makes.Example: "Oh! You picked a D! A D says /d/ /d/ /d/. Let's see which robot has a picture that starts with /d/ /d/ /d/!" **.
Step 6 Match the chip to the correct beginning sound picture and place the letter chip on the robot's belly. Example: "Let's see, does h-h-hat start with the /d/ sound? No. Hmm. Does d-d-dog with start the /d/ sound? Yes! Let's put the D chip on the d-d-dog!"
** This activity is primarily focusing on the letters' sounds. The /forward slashes/ with a sound inside indicate the sound the letter makes. Example: The letter D's is pronounced "dee," but focus instead on the sound the D makes. The /d/ sound is similar to "duh".
Keep the fun going: After going through all of the chips, encourage your child to find items around your home that begin with the same sound as the pictures on the board.

BUILD A ROBOT
Who wouldn't want to build a robot?! Model Magic is an ideal material for preschool-age children because it is easy to manipulate and use repeatedly without losing its functionality. Labeling and creating the shapes multiple times reinforced the effectiveness of this craft. This was one of our favorites from the robot-theme box and we ended up combining the shapes and materials to create robots beyond what was provided on the cards.
Skills practiced: following directions, shape recognition, sensory engagement
Materials:
Build a Robot cards

Model Magic

Pony beads

Gems

Paper clips

Googly eyes

Pipe cleaners

Metallic chains

Glitter squares

Gears
Instructions:
Step 1 Select the robot your child wants to build from the Build a Robot cards.
Step 2 Use the Model Magic to mold the clay shapes indicated on the card and assemble them to replicate the robot.
Step 3 Add on the gears, eyes, and additional accessories to complete the robot!

FLYING ROBOT STEM CRAFT
Painting the robot, applying the glue, adhering the pieces, and threading the fishing line were wonderful fine motor precursors to the STEM focus of this preschool activity. Constructing the robot and talking about why the pieces were being put together in a specific way added to the satisfaction of watching the robot soar. Playing around with the speed and distance in which the fishing line was pulled apart provided multiple ways to reinforce the engineering applications being discovered.
Skills practiced: fine motor skills, critical thinking skills, creativity
Materials:
Robot

Robot head

Fishing line

Straw

Silver metallic paint

2 pony beads

Paintbrush

Tape (not included)

Scissors (not included)

Glue (not included)
Instructions:
Step 1 Paint your robot as desired. Let dry. Glue the robot head onto its body.
Step 2 Cut two 1-inch pieces off the straw. Tape them onto the back of your robot as shown.
Step 3 Thread either end of the fishing line through the straw pieces.
Step 4 Tie a pony bead onto each end of the fishing line.
Step 5 Hang the robot from a doorknob.
Step 6 Pull the two beads apart and watch the robot fly!

FUEL YOUR ROBOT
Memory games are a fan-favorite in our house so it was no surprise that Fuel Your Robot was played multiple times in one sitting. The vibrant colors of the robot chips and boxes were instantly attractive to my preschooler who couldn't wait to get started. Although finding a match was the goal of the game, recognizing and naming each letter was almost just as exciting for my child as feeding the robot.
Skills practiced: fine motor skills, memory development, uppercase and lowercase letter matching, dramatic play, taking turns
Materials:
Robot boxes

Robot chips with letter labels adhered

Scissors (not included)
Instructions:
Step 1 An adult should cut out the robot's mouth.
Step 2 Help your child set up the robot box. Show your child where the mouth is and say something like: "The robot needs fuel to energize him and it is your job to feed him the matching letters!"
Step 3 Place the nine uppercase letters face down in three rows of three and the nine lowercase letters face down in three rows of three.
Step 4 Explain to your child that this is a memory match game. On each person's turn, flip one lowercase and one uppercase chip over, keeping them in their place. Name each letter that is flipped over, even if it isn't a match.
Step 5 When someone finds a match, feed the chips to the robot to give him energy.
Step 6 Once the robot has been fed all of the chips, it is full of energy and ready to be active. Have a robot dance party or play follow-the-robot-leader around the room!

ROBOT MAGNET CRAFT
Having a craft that showcases their skills to make a recognizable item from individual pieces will leave any preschooler beaming with pride. We utilized the time spent creating the robot to discuss the next steps and locate the necessary pieces before moving forward. Once the robot was assembled, my preschooler named him (Robo the Robot), had him do some robot dances, and proudly hung him on the fridge. Each time someone new noticed Robo it was an opportunity to discuss the steps needed to create it.
Skills practiced: following directions, fine motor skills, creativity, imaginative play
Materials:
Black robot frame

Robot body

2 robot hands

2 robot feet

2 adhesive robot eyes

Adhesive magnet

Glue (not included)
Instructions:
Step 1 Glue the robot's head onto its frame.
Step 2 Glue the robot's hands and feet onto its frame.
Step 3 Adhere the robot's eyes to its face and the magnet to the back.

ROBOT RACE TO 10
Practicing following directions and taking turns is a refresher that kids of any age (and honestly, most adults) can benefit from, so this game was an automatic A+ for me. Then add in the prereading and counting skills, and we were firing on all cylinders. The key to the success of this game was in the repetition. With each passing round, recognizing the numbers and counting the images on the card became easier and faster. Eventually, it was clear—and exciting—to watch subitizing take place, the ability to recognize the number of objects without actually having to count them.
Skills practiced: pre-reading skills, following directions, counting, subitizing, dramatic play, taking turns.
Materials:
Gears

Robot Race to 10 game mats

Robot Race to 10 cards
Instructions:
Step 1 Each player selects a game mat and 10 gears. Shuffle the cards and place them face-down.
Step 2 On your turn, select a card and place the corresponding number of gears on your game mat.
Step 3 Fill the robot's squares moving left to right and top to bottom, the same direction in which we read.
Step 4 The first player to fill up their robot with 10 gears wins that round.
Step 5 The first player to win 5 rounds wins the game!
Let's Connect!
We absolutely LOVE seeing your preschoolers learning through play! Please take photos and videos of your child's robot stacking tower creations and share your photos with us on Facebook and Instagram!
Also, if you aren't already, be sure to follow us on Facebook and Instagram for more fun activities to do at home with your little ones!
Haven't yet tried My Pre-K Box?
My Pre-K Box is the best monthly subscription box for kids ages 3-5.

Everything you need to create, play, laugh, and learn!