Fall is just around the corner and we couldn't be more excited! From hayrides to pumpkin picking to Thanksgiving and more, this season is full of so many of our favorite things and what better way to enjoy some educational harvest themed activities with this month's My Pre-K Box- The Harvest Box!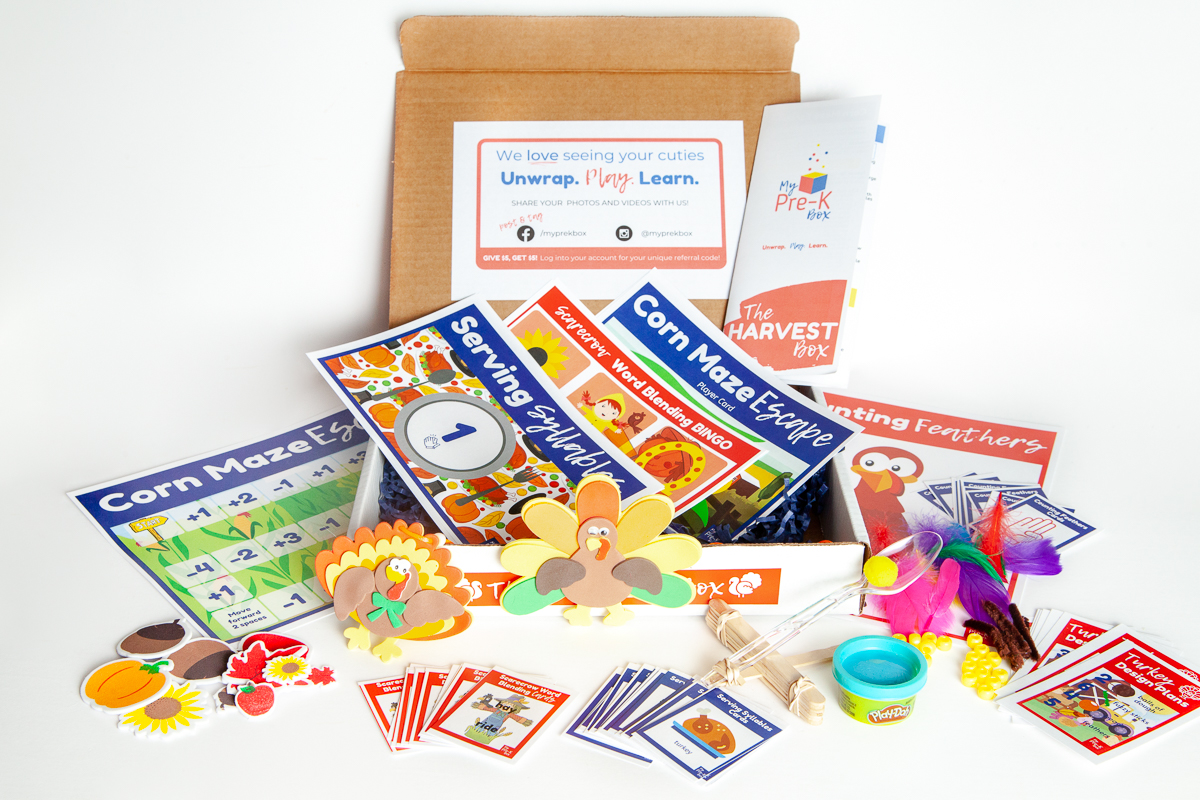 Just like every My Pre-K Box, The Harvest Box is jam-packed with fun activities, games, and crafts thoughtfully designed to engage your preschooler in play-based learning. Our no-prep activities, easy-to-follow guides, and hands-on learning tools are delivered right to your door and are sure to excite any fall-loving preschooler!
Let's take a peek inside!
Can't wait for your box to get to you? Check out these FREE Harvest Worksheets!

Check out our FREE harvest themed preschool worksheets! These harvest themed worksheets are perfect for children aged 3-5! They target important preschool skills like counting, capital and lowercase letters, sorting, and more


Included in the FREE Preschool Harvest Worksheets:

Autumn Count and Compare

Pre-Writing Harvest

Pumpkin Shapes

Tractor Pull Letter Match

Fruit and Veggie Sort

Fall Harvest Beginning Letters

Fall Decorations Count and Color

Leafy Rhymes Clean Up
Get your Harvest-Themed Preschool Fun Pack
A Look Inside The Harvest Box
Corn Maze Escape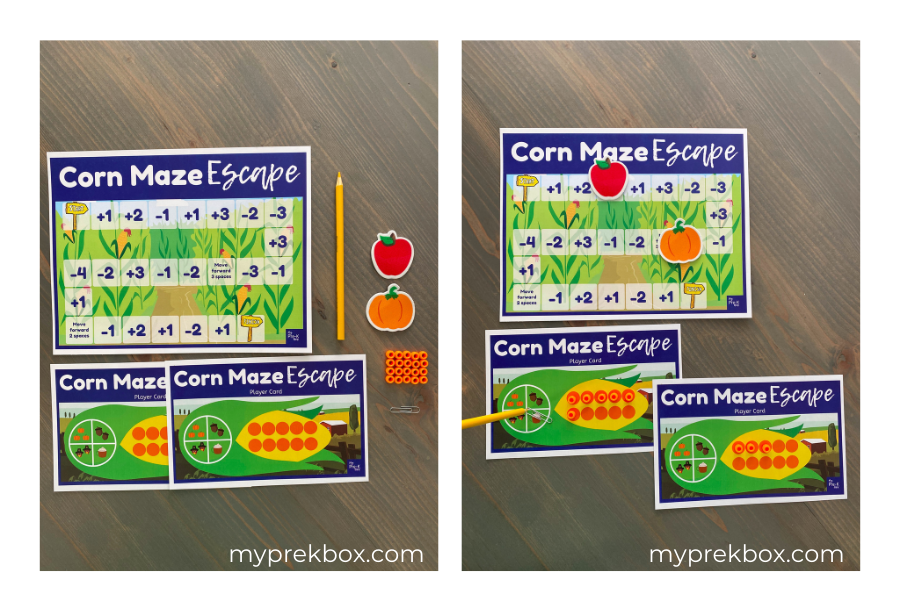 This Corn Maze Escape game is filled of harvest-themed fun and, like all the My Pre-K Box activities, is full of learning opportunities for your preschooler. In this game, each player will spin a spinner using a paperclip and pencil and move the appropriate number of spaces on their Corn Maze Escape game board. Each space they land on will tell your preschooler how many corn kernels to add or take away from their Corn Maze Escape Player Card. Once a player reaches the finish space, whoever has the most corn kernels wins! Who knew developing your number sense could be so much fun!
Serving Syllables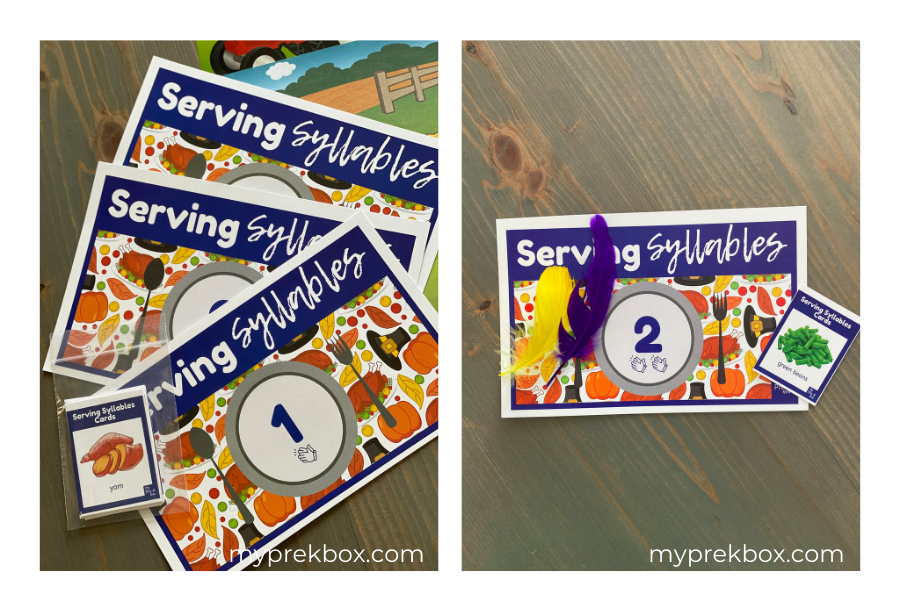 This game is a great way for your preschooler to develop math and language skills while pretending to set the table for Thanksgiving! On each Serving Syllables card is a Thanksgiving food word containing between 1 and 3 syllables. Each time your preschooler draws a card you will say the word and then have your preschooler segment the word into syllables (ex. gra-vy) and practice clapping every time they say each syllable ("gra" (clap) "vy" (clap)). Then your preschooler will set a feather down every time they say a syllable and count the number of feathers to determine the total number of syllables in each word. The food card will then get placed on the appropriate Serving Syllables game mat.
Counting Feathers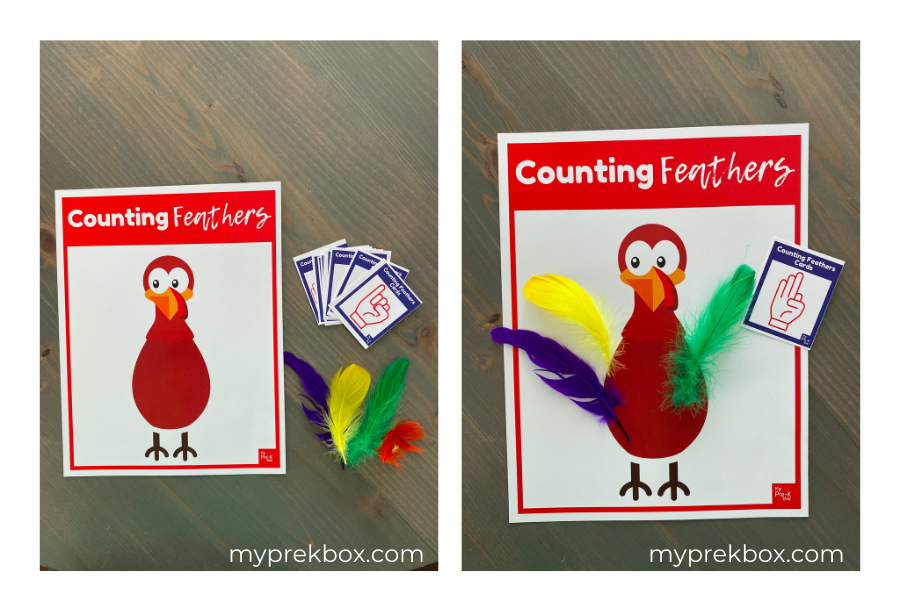 There are so many ways to play this fun fall themed game and lots of opportunities to build your preschooler's growing number sense! In this activity, your preschooler will draw a card and mimic the number of fingers shown, identify the number, and put the corresponding number of feathers down on the turkey. The easy-to-use guides in The Harvest Box (and all of the monthly thematic boxes from My Pre-K Box) offer important discussion topics with the activities to allow for deeper engagement and understanding. For instance in this Harvest Box activity, you and your preschooler can talk about how the numbers between 6 and 10 are composed of 5 and then some more (ex. 5 and 1 makes 6).
Design a Turkey Sensory Play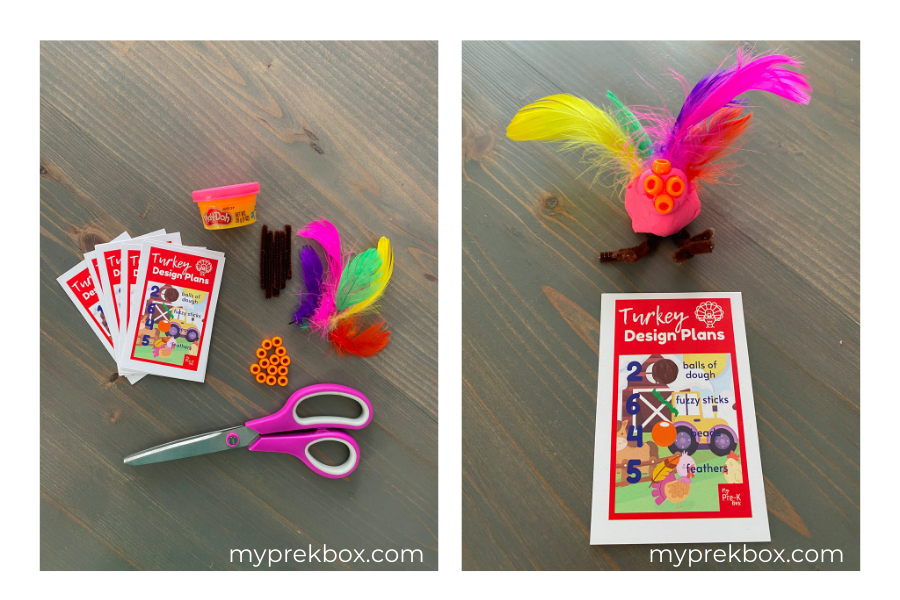 This simple STEAM (Science, Technology, Engineering, Art, Math) activity will allow your preschooler's imagination to run wild as they design their own turkey using the Turkey Design Cards and materials provided. Using beads, feathers, fuzzy sticks, and play dough your preschooler is sure to have a blast with this hands-on harvest themed activity!
Scarecrow Word Blending BINGO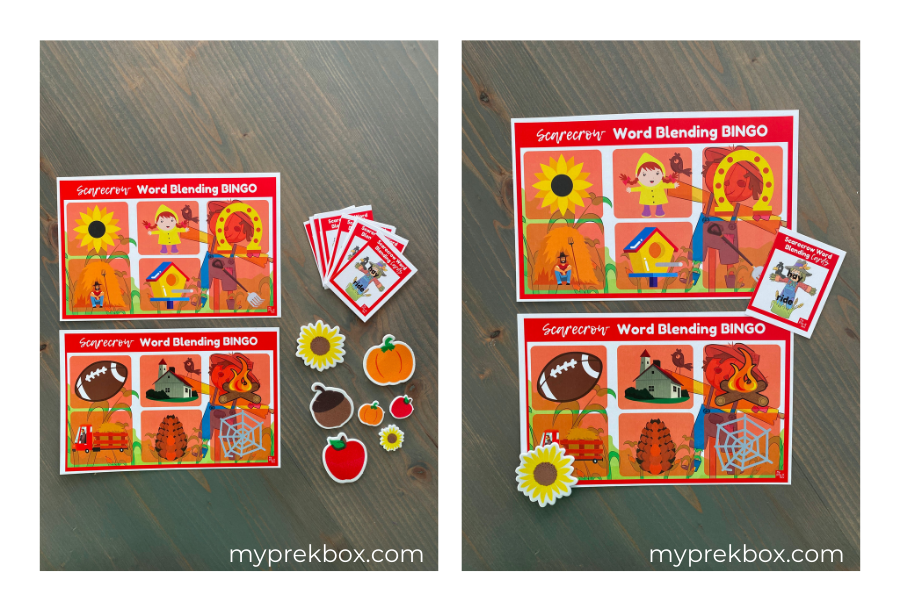 Who doesn't love playing BINGO? This cute harvest activity combines all the fun of this classic game with word blending practice – the first step towards 'sounding out' and reading words! In this Scarecrow Word Blending BINGO game, each player will have a game mat, harvest foam sticker game pieces, and a deck of cards that each contain two words. You will read the words off each selected card (ex. foot, ball) and then invite your preschooler to blend the two words together (ex. football). The player who has the picture of the word on their Scarecrow BINGO mat will then cover it with a harvest game piece. The first one to get three-in-a-row WINS!
Shoot a Turkey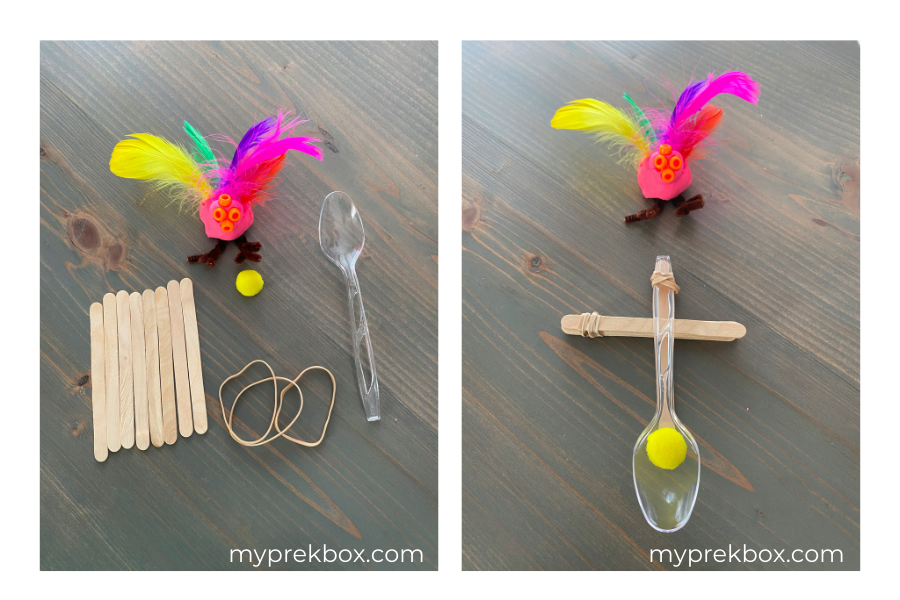 You know those cool turkeys your preschooler got to make during the Turkey Sensory Play activity? This fun STEAM (Science, Technology, Engineering, Art, Math) project uses their turkey along with craft sticks, rubber bands, and a spoon to launch a projectile and "Shoot a Turkey!" There is so much for your preschooler to explore in this harvest themed activity as they experiment with how to best position and launch the projectile so it reaches the turkey.
Turkey Necklace
The Harvest Box wouldn't be complete without this cute turkey craft that is sure to make a great accessory to wear to Thanksgiving dinner! Not only will your preschooler have lots of fun making their very own turkey necklace, they will also get practice with their fine motor skills while peeling stickers and stringing beads. Have more than one preschooler? No problem! You can add duplicate crafts to your box for just $3.25 each!
Looking for even more crafts and fun?
If your preschooler loves arts and crafts, you'll want to subscribe to our Craft Lovers Upgrade which includes TWO additional crafts for just $4.25! Already subscribe? You can update your account preferences here.
Harvest Hayride Sticker Scene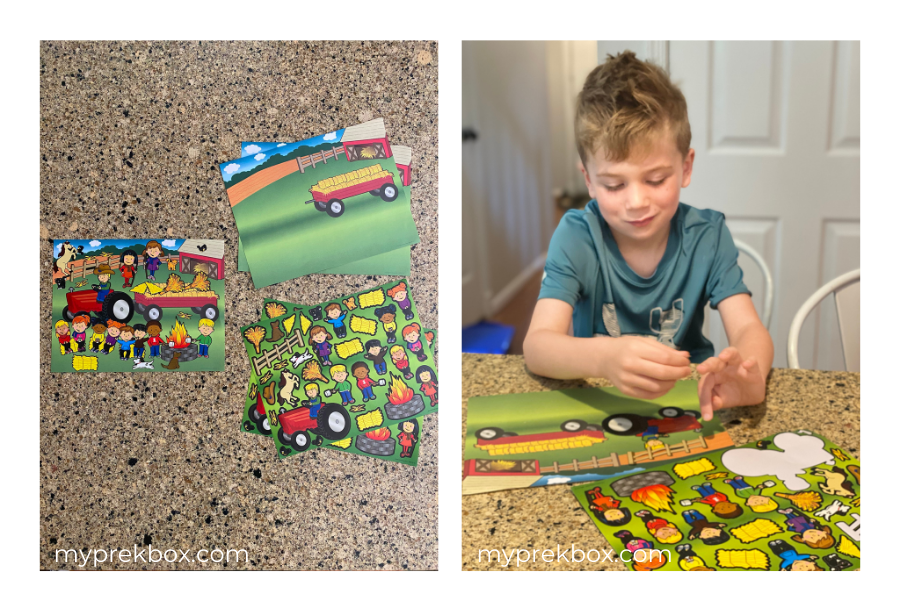 What preschooler doesn't love stickers? This Craft Lovers Upgrade includes a huge sticker sheet and farm backdrop for your preschooler to decorate and create their own harvest scene!
Your preschooler will have a blast using their imagination and fine motor skills as they peel and stick the stickers to bring their own ideas of harvest fun to life!
Hanging Fall Sign Craft Kit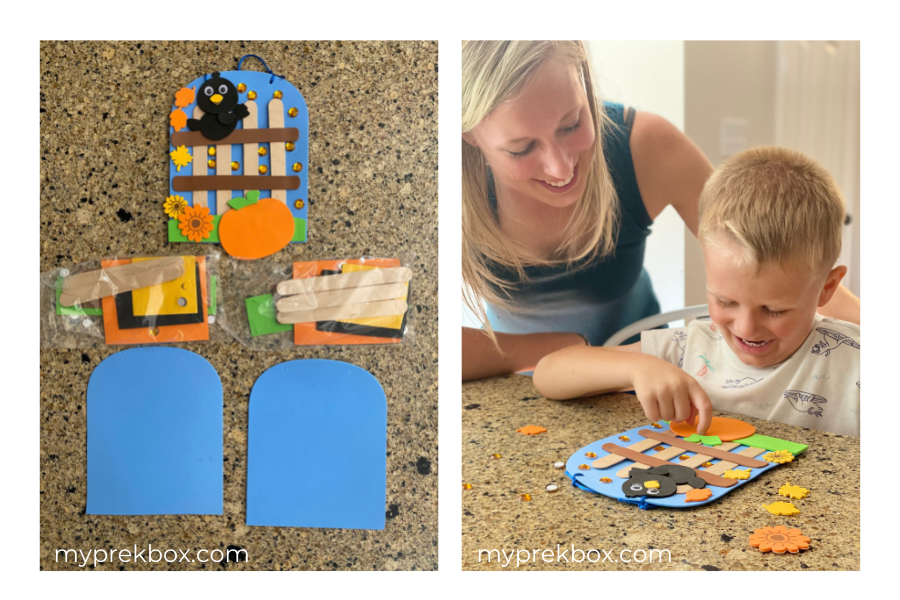 This bonus craft upgrade comes complete with pumpkins, leaves, flowers, a crow, and all the decorations you need to make your own fall themed sign! Perfect for hanging on an entryway or bedroom door, this sign is sure to spread lots of harvest cheer.
Let's Connect!
We absolutely LOVE seeing your preschoolers learning through play! Please take photos and videos of your child engaging in harvest themed STEM-based, sensory, and arts and crafts activities and share your photos with us on Facebook and Instagram!
Also, if you aren't already, be sure to follow us on Facebook and Instagram for more fun activities to do at home with your little ones!
Haven't yet tried My Pre-K Box?
My Pre-K Box is the best monthly subscription box for kids ages 3-5.

Everything you need to create, play, laugh, and learn!