There's nothing more fun than letting your preschooler get a little messy with some paint (don't worry, it's not that bad)! Crafts are not just about creating something beautiful to hang on the fridge, it is a necessary learning activity for these young growing minds.
My Pre-K Box: The Best Educational Subscription Box for Preschoolers
My Pre-K Box is an educational subscription box for preschoolers aged 3-5! We deliver the most fun play-based preschool learning available! Each box has its own unique theme and is filled with different learning activities to target math and literacy skills. Your kids will have fun exploring the new activities, and you will delight in the fact you are helping them with essential Kindergarten readiness skills! These kits are delivered straight to your door and are sure to get your child into the spirit of the holiday AND learning.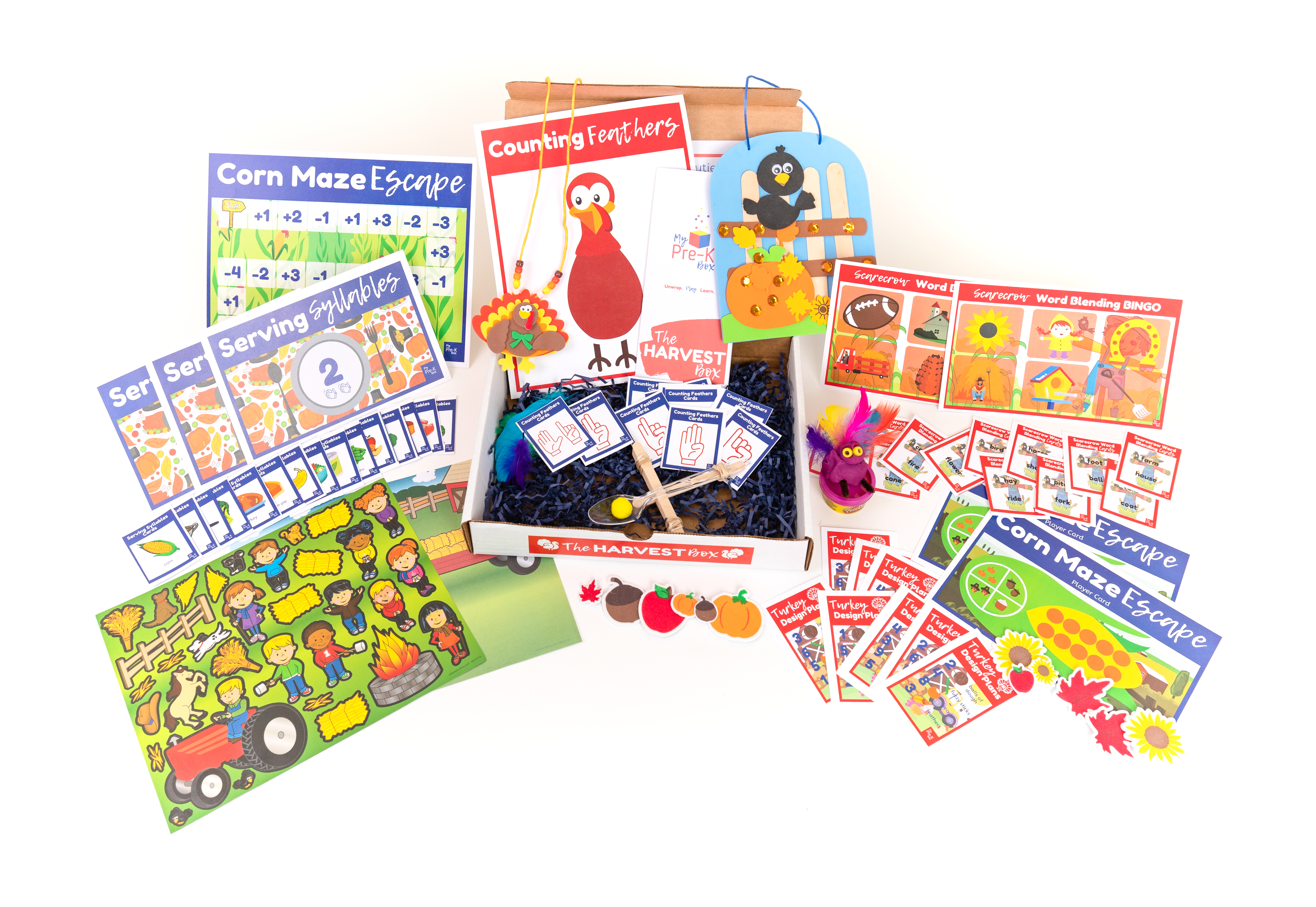 Get your FREE Fall Harvest Worksheets!

Check out our FREE harvest themed preschool worksheets! These harvest themed worksheets are perfect for children aged 3-5! They target important preschool skills like counting, capital and lowercase letters, sorting, and more


Included in the FREE Preschool Harvest Worksheets:

Autumn Count and Compare

Pre-Writing Harvest

Pumpkin Shapes

Tractor Pull Letter Match

Fruit and Veggie Sort

Fall Harvest Beginning Letters

Fall Decorations Count and Color

Leafy Rhymes Clean Up
Get your Harvest-Themed Preschool Fun Pack
What is Process Art?
It's no secret that kids love art. Process art allows kids to explore materials, methods, and textures in an open-ended way. It gives them the safe space to express themselves and experience discovery. While your child works through this craft, ask him/her questions about what they think might happen before they complete each step. If they want to use a different color than what's recommended, let it happen. It's all about the process, not the product.
Getting Creative with this Arts and Crafts Project!
Materials
white, thick paper (cardstock works great)

red, orange, and yellow acrylic paint

a thick piece of cardboard

bubble wrap, cut into corn cob shapes

brown paper bag, cut into strips for husks

paint brush
Directions
Step 1 Squirt lines of paint, red, orange, and yellow, along the edge of the paper and through the middle. Don't worry about squeezing too much. The excess will get pushed off by the cardboard.
Step 2 Have your preschooler use the cardboard strip to spread the paint across the page. He/she may need your help with pushing down hard enough to spread the paint.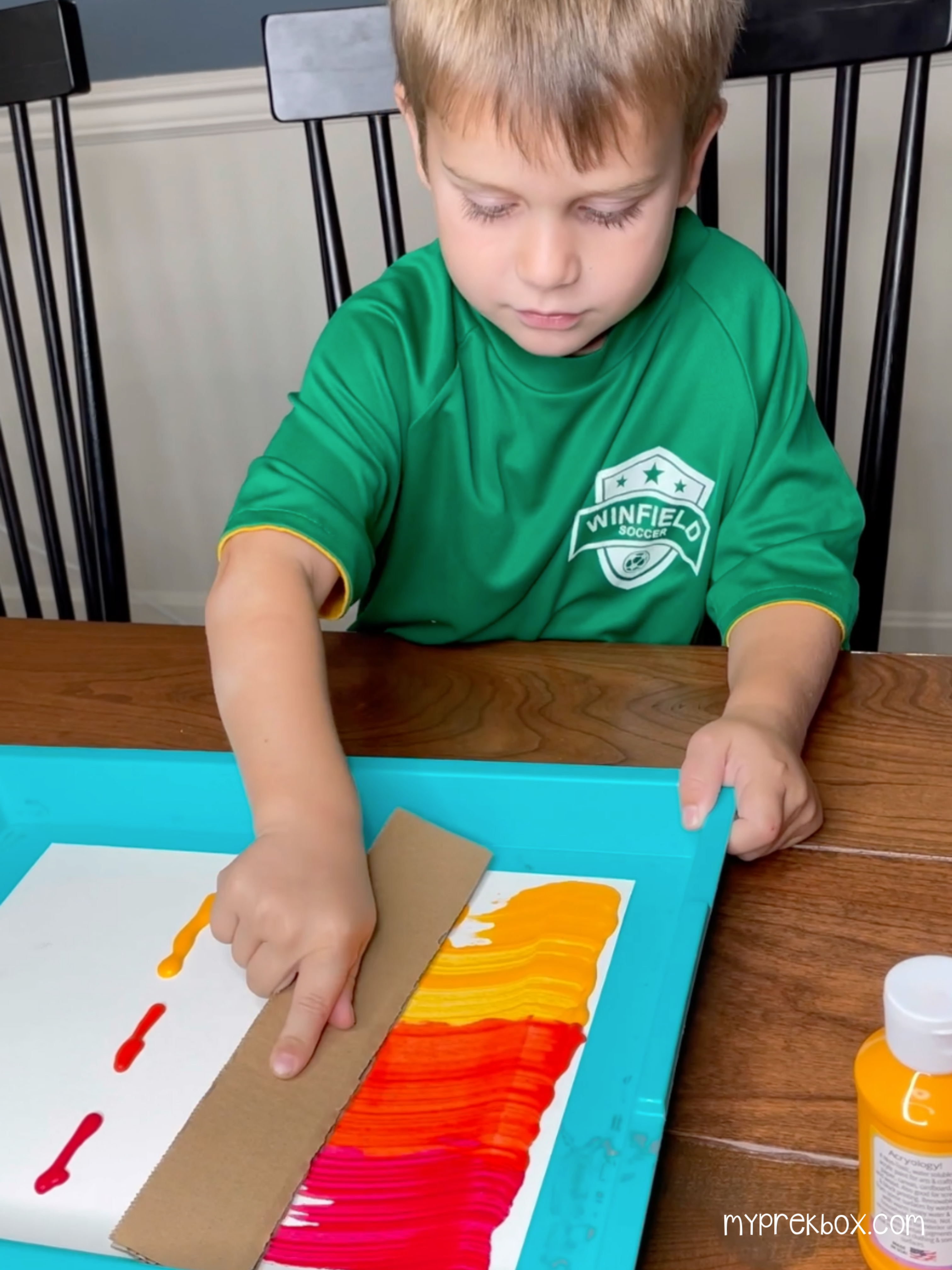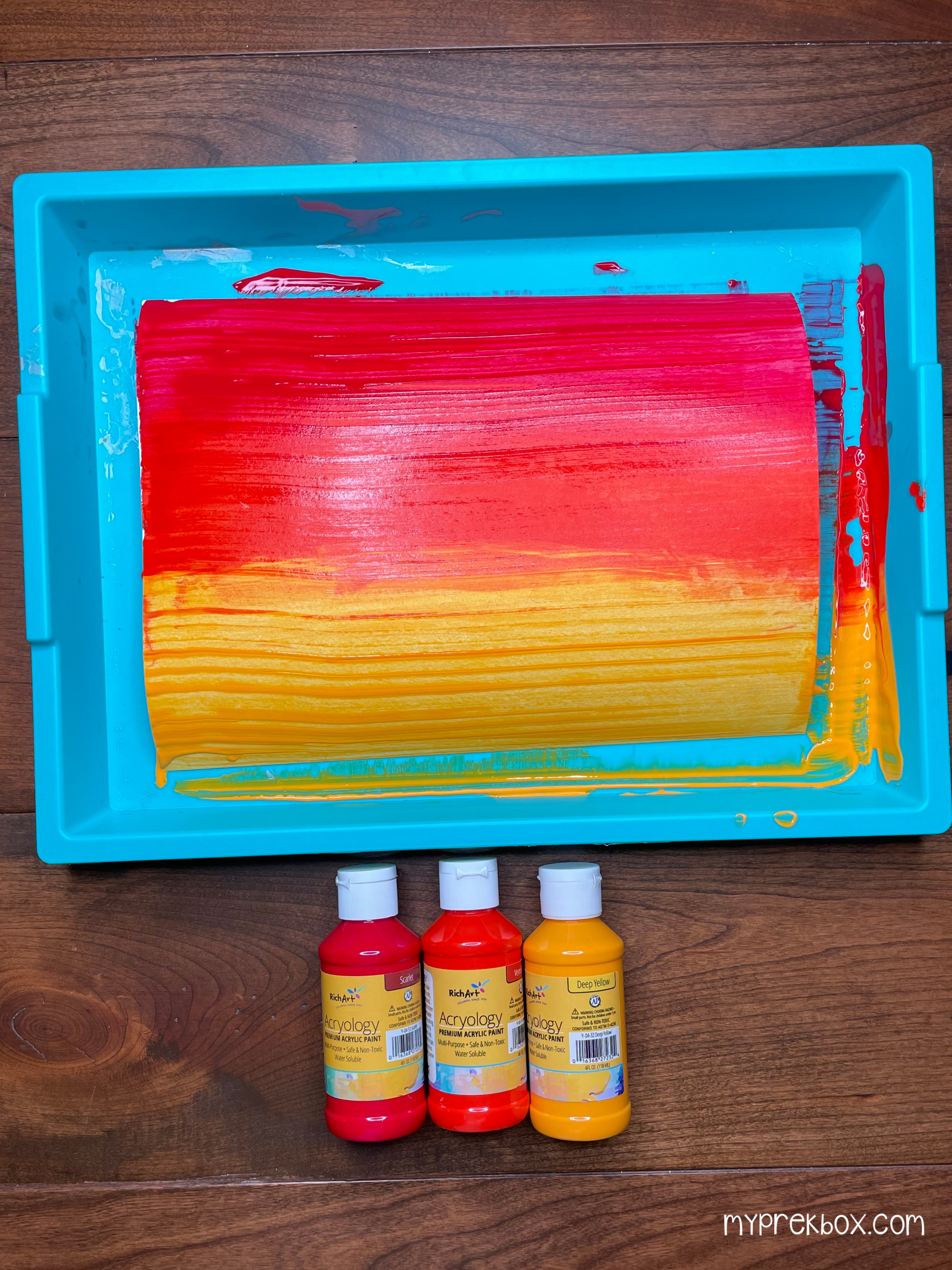 Step 3 While the paper dries, squeeze some yellow paint on the bubble wrap corn cobs. Your preschooler will paint each of the corn cobs yellow. Make sure they spread the paint so you can see the bubbles popping through.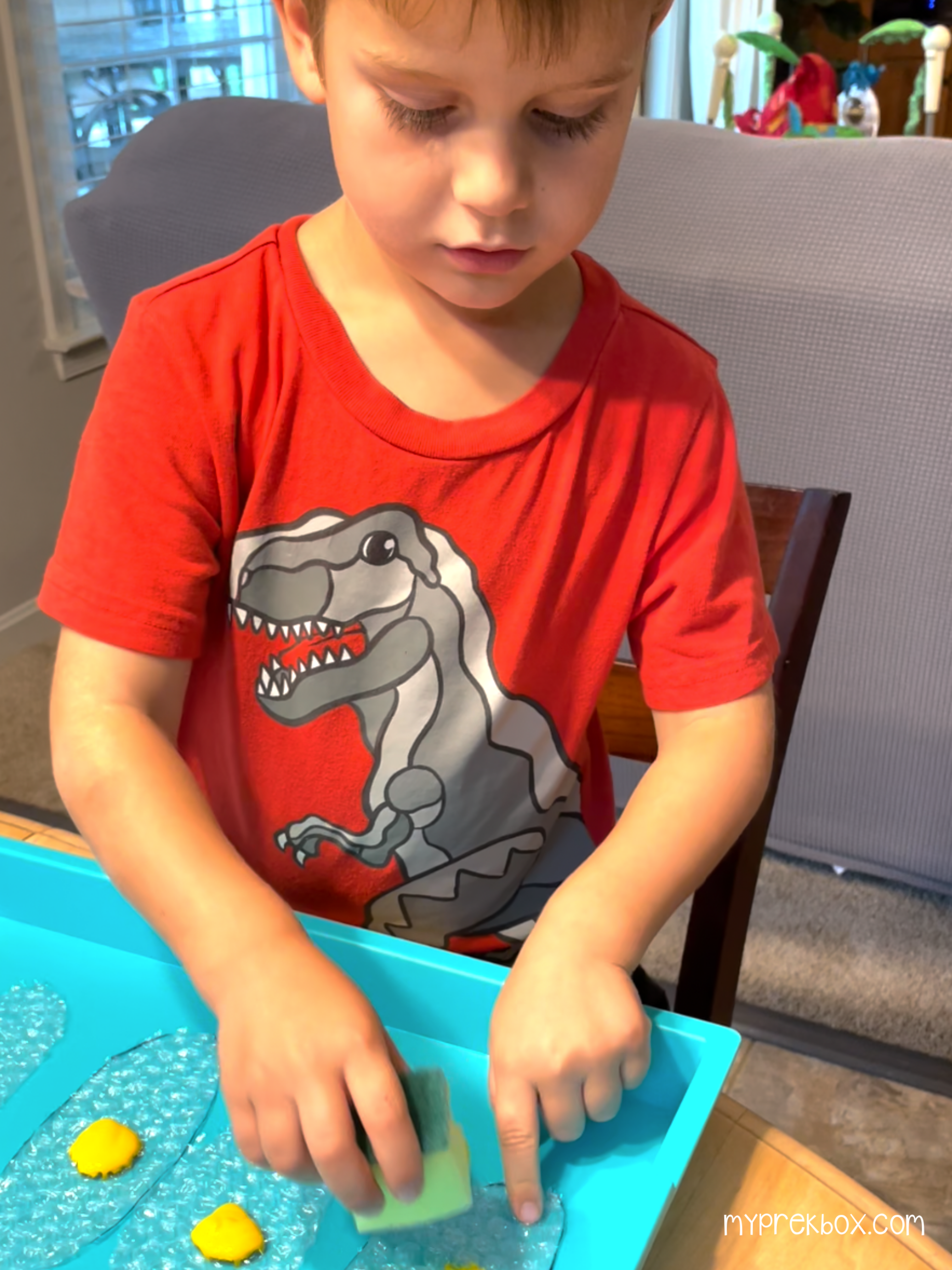 Step 4 Have your child glue brown paper bag stripes to the base of the corn cobs once they've dried.
Step 5 Once everything is dried, have your child glue their painted corn cobs to their painted sunset.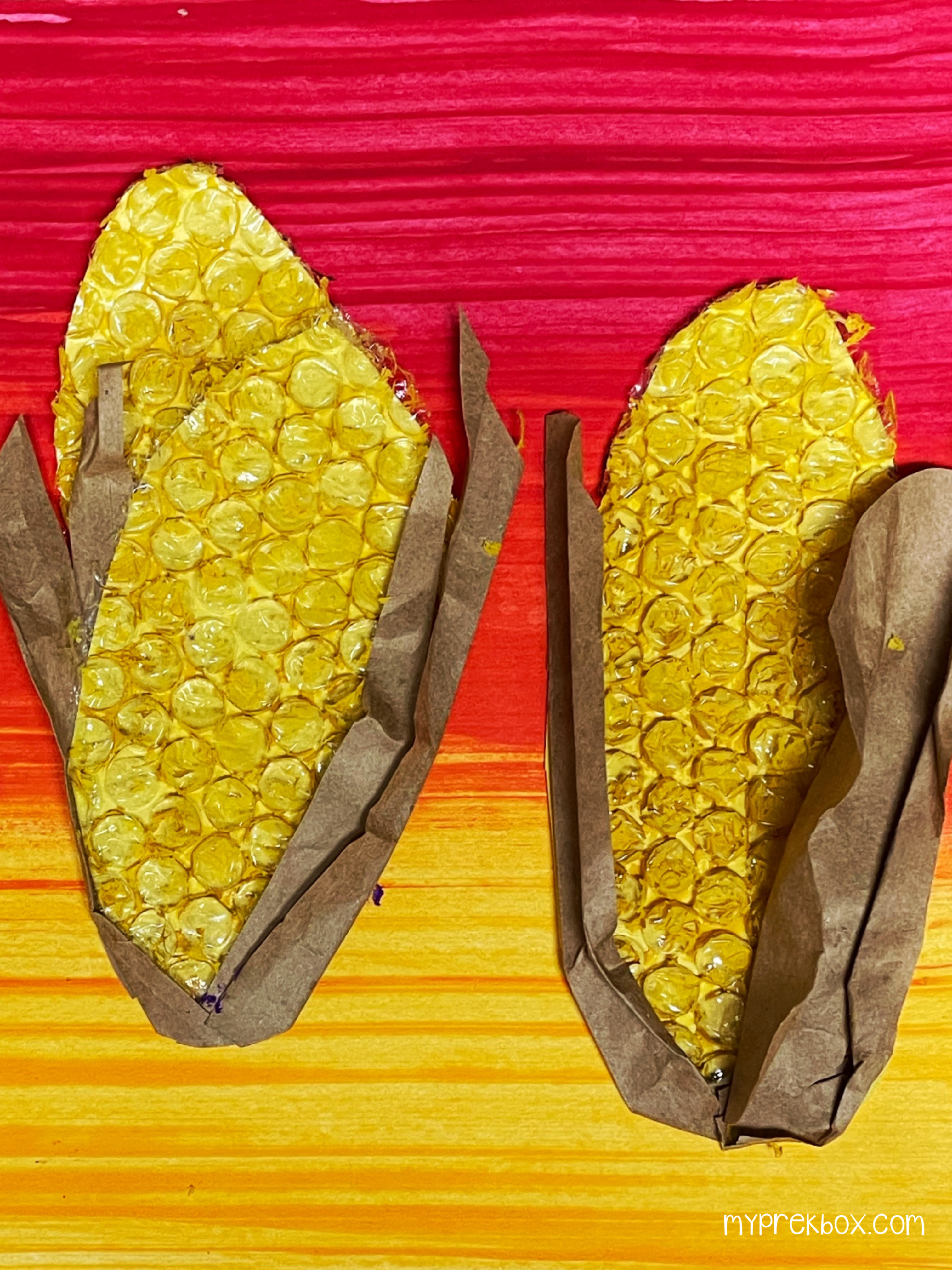 Make sure to tag us in a picture of your finished product. We would love to feature you in our newsletter!
Let's Connect!
We absolutely LOVE seeing your preschoolers learning through play! Please take photos and videos of your child's work and share your photos with us on Facebook and Instagram!
Also, if you aren't already, be sure to follow us on Facebook and Instagram for more fun activities to do at home with your little ones!
Haven't yet tried My Pre-K Box?
My Pre-K Box is the best monthly subscription box for kids ages 3-5.

Everything you need to create, play, laugh, and learn!